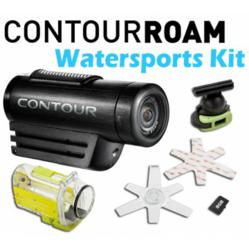 Free 8GB MicroSD card bonus with every order.
Blaine, Washington (PRWEB) April 30, 2012
Pointofviewcameras.com has in stock the new ContourROAM Watersports Kit for taking the versatile Contour camera to diving depths up to 60 meters deep. The all in one watersports kit contains everything you need to record vivid, detailed action video for every action sports enthusiast engaged their favorite water-based sport.
The ContourROAM Watersports Kit includes the easy to use ContourROAM camera, a Surfboard Mount, and the specially designed ContourROAM Waterproof Case. These accessories provide the perfect combination of action camera plus mount and case to capture any type of water adventure in action – anywhere, anytime.
Main Components Of the ContourROAM Watersports Kit
Contour Camera
The kit includes the versatile and easy to use ContourROAM camera from Contour, a leader in the burgeoning field of action cameras. The ContourROAM can shoot beautiful video in a multitude of HD formats including:
Full HD - 1920 x 1080 @ 30/25fps
Tall HD - 1280 x 960 @ 30/25fps
Action HD - 1280 x 720 @ 30/25fps
Photo Mode: Every 1, 3, 5, 10, 30, or 60 seconds
A wide 170 degree angle lens, single large one step on/record switch, red laser level and tough aluminum body make this intuitive and easy to use camera an excellent choice for outdoor recording. A fast f2.8 lens means it can handle well in low light while the 270 degree rotatable lens ensures the user gets the exact angle needed. With a 3 hour battery life, the ContourROAM is the longest lasting Contour available.
ContourROAM Waterproof Case
It provides protection from the elements for the ContourROAM, the Waterproof Case locks out moisture while still allowing fully featured operation (including single-slide record and laser alignment.) Two safety latches keep it shut tight, and the TRails allow it to slide and lock on a variety of mounts. The ContourROAM Waterproof case is waterproof and buoyant up to 60 meters. It fits the ContourROAM model perfectly.
Fully Adjustable Contour Surfboard Mount
The Contour Surfboard Mount can be rotated 360o and is easily adjustable with wet or cold hands.
What's Included In The ContourROAM Waterproof Kit:
[1] ContourROAM Camera
[1] ContourROAM Waterproof Case
[1] Contour Surfboard Mount
[1] USB Cable
Save Money, $50 Savings
The ContourROAM Waterproof kit is a cost effective underwater recording solution. This kit offers a $50 Retail savings over purchasing the camera, accessories and mount individually. For a limited time Pointofviewcameras.com will include an 8GB microSD card for just $249.99 or $279.99 Cdn at Pointofviewcameras.ca.
About PointOfViewCameras
Pointofviewcameras.com is the largest independent action camera reseller online. With a Contour Cameras Canada store at Pointofviewcameras.ca, a huge selection of Contour Canada cameras, Contourroam Canada and accessories are available. Drift Canada cams are also available. For European customers in the UK visit pointofviewcameras.co.uk.