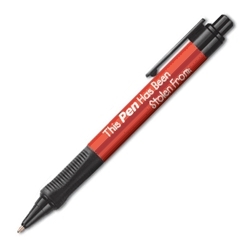 We recognize our customers are wearing multiple hats while running their business -- C.E.O., accountant, marketer, and so on
San Diego (PRWEB) August 26, 2008
National Pen Company LLC, the leading direct marketer in the promotional products industry in the world, is announcing a plan to utilize social media to start a conversation with small and mid-size business owners. The topic is marketing and the goal is to help these businesses grow.
National Pen's blog, Branding Thoughts, is the leading element of this social media strategy. According to Sean Clough, Executive Vice President of Marketing, this blog will allow business owners to draw upon the skills of National Pens' marketing team.
"We recognize our customers are wearing multiple hats while running their business -- C.E.O., accountant, marketer, and so on," stated Clough. "Our blog is a place business owners can come to for marketing advice from our in-house team on topics like search engine marketing, web design, email marketing and direct mail."
To help start the conversation, National Pen is hosting a contest for customers to submit their own design for the Contour Pen - a pen that was invented by company founder Al Ligouri -- for a chance to win $1,000. Recognizing not every business owner is a graphic designer; customers can look to Branding Thoughts for design advice from National Pen's graphic designers.
The contest will also bring National Pen into another social network niche, Facebook. Contest participants will be recruited, in part, from groups on Facebook, in an effort to attract professional graphic designers to enter the contest.
National Pen is widely known for their ability to offer 4-color decorated promotional products at an unbelievable price. For more information about National Pen, please visit http://www.pens.com/pens/about.
###