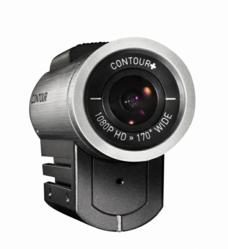 Turn your iPhone or Android smartphone into a wireless LCD viewfinder and camera controller.
(PRWEB) May 16, 2011
Contour, one of the leading manufacturers of hands free video cameras have introduced a breakthrough HD videocam with the Contour+. The Contour+ is a wearable 1080p HD camera with built in GPS and wireless LCD viewfinder capability using your iPhone/iPad or Android smartphone as the viewfinder.
Contour produces the highly popular line of Contour GPS and Contour HD wearable camcorders for the action sports crowd, who love their quality HD recording and easy to use mounting system. These wearable sports cameras have really taken off in popularity in the last few years. It is no longer uncommon to see skiers or mountain bikers with mini video cameras mounted to their helmets and gear. Like other high tech gadgets these point of view cameras have adopted technical advances at a breakneck pace.
The Contour+ camera is the latest flagship model that uses your smartphone as a wireless LCD viewfinder for the camera. By incorporating a Bluetooth radio within the camera and installing Contour's free Connect View phone app, the user can preview video and control camera settings like white balance, exposure and sharpness right from their smartphone. Using your phone as an LCD viewfinder means the Contour+ has the largest and sharpest preview screen of any action camera.
Contour listened to their users' requests and added the latest in demand features to the Contour Plus camera. With the new HDMI type C connector, consumers can stream live video directly from the camera to an external HDMI compatible screen or play back full display HD video. Now users can show off their wild adventures directly on their home tv's immediately after filming.
Contour has thoughtfully added an external microphone jack to the bottom of the Contour+ so users now have the option to improve sound recording using an external microphone for professional quality sound recording.
Along with a more powerful GPS system that records over twice the amount of data over previous models, the Contour+ encompasses the following improvements.
-170 degree wide angle lens
-flush lens mount for easy cleaning
-270 degree rotational lens
-Bluetooth radio
-wireless camera controls
-HDMI playback of full HD video
-streaming video through HDMI port
-rear door pass through for USB and HDMI ports
-external microphone jack
Of course the camera maintains the fine HD recording qualities that have made Contours so popular. Three HD resolutions of 1080p/960p/720p and multiple frame rates including a high speed 60fps for super smooth action keep it at the front of the pack.
About Contour
The Contour camera company was started by two outdoor enthusiasts who wanted a better way to record their skiing videos. Wearable cameras until then were mostly home made concoctions cobbled together from regular consumer video cams and screws with duct tape. Since 2005, Contour has been rapidly advancing the hands free camera market. They have been improving and refining their original design first with an easy to use mounting system and higher resolutions and now with GPS and the Contour Connect View wireless viewfinder technology.
About PointOfViewCameras.com
Pointofviewcameras.com is the largest independent online retailer of helmet cameras. With stores covering the US, Canada and the UK their excellent customer service and wide selection of top action cameras brands like Gopro cameras, Contour, Vio, Drift Innovation and accessories make them one of the best choices when shopping for wearable cameras like the Contour+. The new Contour+ is available for preorder here.
###