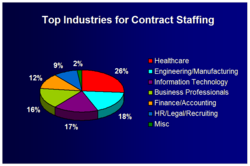 Since the recession, companies have been very focused on workforce flexibility.
Canton, OH (PRWEB) August 02, 2012
Top Echelon Contracting (TEC), a provider of contract staffing back-office services for recruiters, has identified the following professional, technical, and healthcare industries that are driving the continued growth of contract staffing. This is based on 2011 placement statistics, along with the first and second quarter 2012:

26% - Healthcare
18% - Engineering and Manufacturing
17% - Information Technology
16% - Business Professionals and Support Staff
12% - Finance and Accounting
9% - HR/Legal/Recruiting
2% - Miscellaneous
Healthcare and Engineering/Manufacturing have taken the top two spots. Healthcare in particular has been the biggest industry for contract staffing for several years, and its popularity only continues to grow. Contract placements have been strong for all the therapy disciplines, along with pharmacy and nursing positions.
"As the population continues to age and healthcare facilities look for ways to contain costs, we can only expect more growth in Healthcare contract placements," TEC President Debbie Fledderjohann said.
TEC has also noticed growth in a subset of that industry, Health IT, as more healthcare providers move to convert patient records to Electronic Health Records. The company has placed numerous contractors in this niche, including Clinical IT Consultants, Healthcare IT Epic Analysts, Healthcare Systems Analysts, Meditech Clinical App Consultants, Meditech LIS Consultants, and Meditech Pharmacy Systems Analysts.
The Engineering and Manufacturing growth is heavily tied to increased demand in the production environments. This directly correlates to new contract opportunities for electrical, quality, mechanical, process, and documentation engineers, along with network and computer hardware engineers.
"Since the recession, companies have been very focused on workforce flexibility," Fledderjohann said. "They need the ability to quickly bring in help when necessary and decrease their staff when business is slow without laying workers off. A common workforce model we are seeing is where companies maintain a small core of direct employees and then support that core with a larger outer ring of contractors. In a nutshell, I think companies have changed the workforce strategies, and the blended workforce model of direct employees and contractors is here to stay."