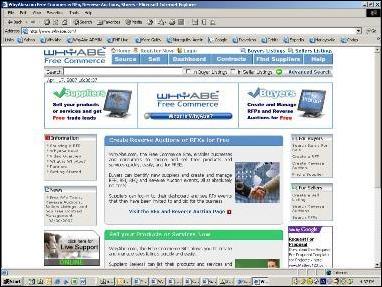 During our history we have developed subject matter expertise and sourced over one hundred categories
Willow Grove, PA (PRWEB) April 18, 2007
As the first and the most respected supply management institute in the world, the Institute for Supply Management™ (ISM) is hosting the 92nd Annual International Supply Management Conference and Educational Exhibit in Las Vegas from May 6th to May 9th in Las Vegas. Source One in support of the ISM, is participating as a silver sponsor of the event. Source One will present its Contract Management enhancement to WhyAbe.com in the exhibit hall, booth 511.
WhyAbe.com offers free electronic commerce tools for buyers and sellers. With the addition of Free Contract Management users can now create a database of all of their active and expired contracts. New features allow the tracking of supplier information, contract amount, contract start and end date as well as the ability to add comments. The executed contract can be uploaded and attached to the contract summary data to provide the ability to access all relevant information about the contract in an instant. Ten different reports are provided so users can view active and expired contracts sorted by different variables.
With Contract Management, WhyAbe now has a complete suite of sourcing and management tools for procurement professionals. Users can manage their RFx's, conduct Reverse Auctions and track Contracts all on a single hosted web site. Extensive on line help is provided throughout the site as well as free live support.
On Monday, May 7th, Source One will host a dessert reception and will be speaking with procurement professionals that want to find out more about strategic sourcing services such as category management, spend consolidation, statements of work, alternate supplier identification, market and supply research, RFP management, price negotiations, and E-enablement (http://www.WhyAbe.com).
Source One has been at the forefront of supply chain transformation and enablement for the past 15 years assisting companies in strategic sourcing as a Procurement Service Provider. "During our history we have developed subject matter expertise and sourced over one hundred categories" said Steven Belli, CEO of Source One.
A small sampling of the categories that Source One has successfully sourced include: Advertising, Benefits, Chemicals, Direct Materials, Freight, Hardware, Insurance, Material Handling, MRO, Packaging, Small Parcel, Software, Telecommunications, Travel, Treasury Services, Uniforms, & Utilities. Clients average 18% savings across all product and service categories. In order to best service their clients, Source One provides flexible fee options for their consulting services. Clients can choose between contingency (gain sharing) based, fee for service or a hybrid. For more information, visit http://www.SourceOneInc.com or call 215-902-0200.
###