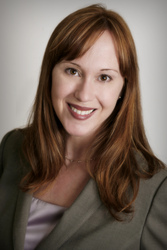 Collabrus has tremendous strengths and is a proven leader in the independent contractor compliance and professional payrolling space
San Francisco (PRWEB) March 11, 2009
Collabrus, Inc., a leader in contingent workforce management and compliance solutions is pleased to announce that Alicia Gousis has joined the company as Vice President, Business Development. In this role she will be chartered with developing new client relationships and helping to execute future growth initiatives for the company.
Ms. Gousis brings 15 years experience in business development and client services to Collabrus, along with her broad experience in human resource and compliance solutions. "Collabrus has tremendous strengths and is a proven leader in the independent contractor compliance and professional payrolling space," said Gousis. "I'm looking forward to building on my industry experience and to help the company move to the next level."
Dorinda Parker, General Manager of Collabrus stated: "With the addition of Alicia to the Collabrus team we are now in an even stronger position to respond to the incredible market demand for our services. We are finding that more companies are relying on contingent workers like independent contractors and outside consultants to help accomplish company objectives in these uncertain times. With the recent changes in the regulatory environment, clients are looking to Collabrus to help mitigate the tax and co-employment risk associated with engaging these temporary resources. Collabrus' risk mitigation solutions are designed to protect our clients while affording them the ability to attract and retain the top talent they need."
In her professional career Alicia has excelled in a variety of account management and business development roles. For the last five years, Alicia has served as a District Manager in the Professional Employer Organization (PEO) sector, working for Administaff. She has been a leader in providing strategic human capital solutions to CEO's and CFO's in high growth companies headquartered in California.
Contact:
Kimball Norup
Chief Marketing Officer
415-391-1038 ext. 230
knorup at msquared dot com
About Collabrus, Inc.
Collabrus provides its clients with a comprehensive suite of contingent workforce management services designed to optimize their workforce spend and mitigate risk. Services include professional-level pay and benefits for contract employees, worker qualification and contract administration for Independent Contractors, and end-to-end outsourced managed solutions. Collabrus' tailored programs enable progressive companies to make the contingent workforce a key asset in their overall talent strategy. For more information visit: http://www.collabrus.com
###