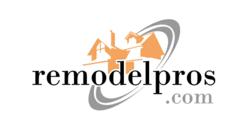 Treat each and every customer as if they are your only customer.
Tacoma, WA (PRWEB) July 20, 2011
When it's time for a big home remodeling project, homeowners typically do their own legwork, finding and researching local contractors before taking their chances on hiring one. But there is a better way. RemodelPros.com is a free service that matches homeowners with the most qualified, reputable contractors in their area.
For those in need of home remodeling help, RemodelPros.com is a quick, free, and easy way to find the right contractors. Homeowners simply choose their remodeling categories -- additions and remodeling, bathroom remodeling, cabinets, carpet, cleaning services, or concrete, brick and stone -- and fill out a quick form describing their needs. RemodelPros.com gives the information to several reliable contractors in the homeowner's area who are best qualified to take on the project. The homeowner is then free to work with any contractor he or she chooses.
For contractors, RemodelPros.com offers an affordable way to get high-quality contractor leads. Because the homeowners at RemodelPros.com have already indicated they need home remodeling help and have provided their information to RemodelPros.com, they are receptive to contractors' calls about their projects. The proprietary RemodelPros.com software allows contractors to cap the amount they want to spend each month on contractor leads, and the service only charges for actual leads sent.
Contractors won't receive junk leads in the RemodelPros.com contractor leads service. RemodelPros.com contacts every lead to verify and discuss the home remodeling project before forwarding the lead on to the contractor via e-mail, fax or text.
"In contacting the leads and verifying their information, RemodelPros.com performs a crucial step that weeds out renters and other undesirable leads," explained Steve Keirstead, co-owner of RemodelPros.com parent company West Coast Vinyl Inc. "We believe in providing the best value possible to our clients, and putting in the time to verify contractor leads ensures we are giving our contractors only the highest quality leads available."
As an added value, RemodelPros.com provides its contractor lead clients with free Web space. Contractors can show off photos of the home remodeling work they have completed, include customer testimonials, and even list their direct contact information -- all at no additional cost.
About RemodelPros.com
Based in the U.S., RemodelPros.com is a DBA of Northwest replacement window manufacturer West Coast Vinyl, Inc. RemodelPros.com works with thousands of contractors nationally, providing them with high-quality, low-cost contractor leads. RemodelPros.com carries on the legacy of the late West Coast Vinyl, Inc. founder James Keirstead by treating each and every customer as if they were the company's only customer. Learn more at http://www.remodelpros.com.
# # #