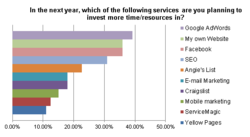 Los Angeles, CA (PRWEB) August 17, 2012
Between the recent US housing crisis and declining efficacy of traditional forms of advertising, it has been an interesting several years for home improvement professionals.
As the housing market continues to normalize, the demand for home improvement services has rebounded however many contractors are still scrambling to find the right blend of marketing tactics to keep up with an audience that is rapidly matriculating to the Internet and mobile.
To better understand the current and future state of home improvement marketing, BuildZoom conducted a survey of over 375 remodeling professionals.
Key findings from the research initiative included the following:
1. Contractors primarily view their own Website as a tool for lead nurturing. When asked about the benefits to having a Website, the most common response from contractors was, "It's a place I can send prospects to learn more about my business."
2. Contractors displayed a keen awareness of the benefits associated with search engine optimization (SEO). Nearly 60% of respondents believed that one of the key benefits to having a Website was to connect with new prospects through search.
3. Currently, "earned marketing" tactics like (e.g. maintaining a business Website and Facebook page) are more frequently used than "paid marketing" tactics like Google AdWords and ServiceMagic.
4. Contractors expressed a high degree of interest in using Google AdWords. Nearly 40% of respondents reported they were planning to invest more time and resources into Google AdWords in the upcoming year, making it the most popular marketing application from a forward-looking perspective.
More research findings are available on the BuildZoom blog.
About BuildZoom
BuildZoom empowers homeowners to make better hiring decisions by providing them with a simple and effective way to find the best service provider for their next job. BuildZoom uses a Big Data approach that analyzes over 2 million remodeling contractors in the US against a broad set of quality indicators such as their license status, consumer feedback and more. Each contractor is given an independent rating that determines their placement on BuildZoom.com, where consumers can freely browse and search to find the right service provider for their next job.