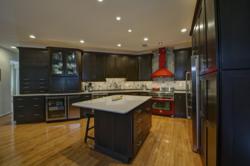 best of the best design and remodeling firms in the DC area
Reston, Virginia (PRWEB) February 24, 2012
Continuing to defy the odds, this less than four (4) year old construction firm uses their proprietary Renovation Roadmap™ system to nab an award for another kitchen renovation, impressing clients and industry experts alike.
On January 21st during a ceremony at the National Conference Center in Leesburg, Synergy Design & Construction, Inc. (dba Synergy D&C) was awarded the 2011 Capital CotY Merit Award for "Kitchen $50,000 to $100,000" from the National Association of the Remodeling Industry (NARI) Metro DC Chapter.
"The Capital CotY Awards are presented to the best of the best design and remodeling firms in the DC area," said Mina Fies, President and CEO of Synergy D&C. "We are thrilled and honored to be recognized for this kitchen in the most competitive category, amongst other highly qualified firms. Our Renovation Roadmap™ has become an essential part of every project we do, and we couldn't be prouder to share it with our clients."
About the project: The clients love their suburban home because of its great neighborhood, however, their old kitchen was dysfunctional for their lifestyle. As avid cooks and frequent entertainers, they requested a complete re-design to better support their family.
Relocating key elements of the kitchen and reconfiguring the oddly-shaped island was first and foremost in creating expanded counter space and storage. The clients fell in love with a red range and custom-painted hood, and a custom banquette with matching red cushions was built to tie the space together and contributed to the kitchen's 'wow' factor.
The clients are thrilled. "From the moment we met Mina and her team, we knew they were our choice. They took the time to understand our taste, our lifestyle, and our personalities, and helped us bring a very lofty vision to life. They communicated with us every step of the way, helped us manage through the inevitable bumps in the road, and ultimately delivered to us a jaw-dropping, stunning kitchen that made us fall in love with our home all over again. We couldn't be more thrilled with the result, nor the experience we had working with Synergy."
This latest award for the less than four (4) year old company will be added to a portfolio that includes a COTY Grand Team Award for "Residential Interior $250,000 and Under" in 2010, a 2010 Master Design Award for "Finished Basement" by Qualified Remodeler magazine, and two (2) Master Design Awards, for "Kitchen Less Than $50,000" and "Finished Basement," in 2011. But Synergy D&C doesn't rest on their laurels. Just one look at their extensive portfolio of unique kitchens, bathrooms and additions and you'll see why this young company is making a name for themselves.
Photos of the winning kitchen can be seen on our Facebook Page:
About Synergy Design & Construction, Inc.
Synergy D&C is an award-winning woman-owned, Class A General Contractor serving Virginia, Maryland, and the District of Columbia. Their mission is to provide outstanding renovation experiences by using their proprietary Renovation Roadmap™, which helps clients understand the design, plan for the exact costs, timelines, and schedules. Synergy D&C launched at the height of the recession, on September 19, 2008 as a home design and remodeling business and has represented construction costs valued at over $5 million.
###