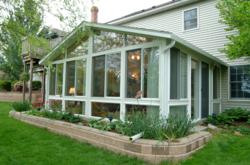 Our work backlog is relatively low. We need to cut prices to keep work for our employees
Lancaster, PA (PRWEB) September 11, 2012
As the summer season winds down, many home improvement contractors find their work queues relatively low. Traditionally this time of year, contractors will work long hours maximizing their days and taking advantage of the nice weather. However, this time around work is harder to find. Zimmerman Exteriors, a contractor offering roofing, siding, additions and remodeling services around Harrisburg PA, exclaims, "Our work backlog is relatively low. We need to cut prices to keep work for our employees. We always provide quality work at competitive prices, but we are offering some deep discounts to get more work on the books."
Another contractor, Zephyr Thomas Home Improvement, based in Lancaster PA is in a similar situation and is offering substantial discounts on a variety of options including home additions, entry and patio doors, siding and windows. The coupons are on their "Current Specials" page and expire soon, but they do offer significant discounts on those services.
Another route homeowners are taking is by tackling projects themselves. Do-it-yourself enthusiasts represent a large segment of homeowners looking to save some money on projects that need done around the home. Lowe's, the world's second-biggest home improvement retailer, saw their fiscal second-quarter net income drop 10 percent claiming a charge tied to job cuts led to their dismal results. This could also be contributed to contractors slashing prices and persuading homeowners to utilize their services instead of buying supplies at home improvement super stores aimed at do-it-yourself consumers.
Other contractors like Abel & Son Roofing, who specializes in roofing and vinyl siding are concerned with the economy. "Before you sign, call me" is Abel & Son's slogan. "We just want the opportunity to quote on a project. We can offer very attractive prices", says owner Rick Abel. Many contractors offer free estimates and will come out to the customer's home or business and evaluate the work that needs to done. Many homeowners get 3 to 4 estimates before deciding who they should get to do their project. Zimmerman's Construction who also offers contractor services says it is not uncommon for a homeowner to tell them they are getting 2-3 other bids for the same job.
If anyone is waiting for the right time to do some remodeling or build a new addition, the time might be now. Roofing, siding, replacement windows, home repairs and other general carpentry work are services that are being discounted nationwide. Check the local newspaper or search online for contractors in the area.
To contact WebTek please call Kornel Kurtz at 717-859-3250 or email support(at)webtek(dot)cc