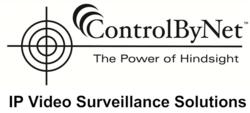 Imagine an organization simply clicking an icon and being fully up and monitoring properties in minutes.
Atlanta, GA (PRWEB) June 06, 2013
ControlByNet, a leader in cloud-based, hosted video security surveillance solutions, announced today support for certain Bosch IP cameras in ControlByNet's i-flashback and its companion ip-LookOUT guard station solutions. ControlByNet's addition of Bosch IP cameras is in direct response to customer requests to take advantage of the Bosch IVA features for advanced analytics to reduce false alarms such as clouds and rain.
The key differentiator in ip-LookOUT is the cloud-based model. "With ip-LookOUT the guard is no longer bound to one room and one PC. Within a few seconds, all of an organization's facilities are fully and actively monitored from a new location," said Ryan Strange, CEO of ControlByNet. "It redefines the term redundancy when the customer has the ability to bring the whole system back up from anywhere in the world at the press of a button. Security centers spend thousands and hundreds of thousands on redundant power, Internet, fire suppression and the like when our solution provides the ability to fully monitor from any remote facility within the blink of an eye. Imagine an organization simply clicking an icon and being fully up and monitoring properties in minutes. Adding capabilities from the Bosch solution just make it that much more efficient."
i-flashback, ControlByNet's onsite or hosted solution provides web-based controls for video hosting providers to manage multiple servers, users and accounts. Because of the bandwidth requirements of a CLOUD service, i-flashback operates in an onsite or offsite mode to fit the needs of the customer. Joining them is ControlByNet's multi-site central authentication server (CAS), which allows customers to have a securely hosted CAS that not only authenticates users across all the hosted properties but connects directly with onsite managed servers for larger installations. It creates a true 'single sign-on' regardless of where the video is physically located. The user logs into a branded website and a customized link is presented with a list of authorized sites.
"It is very rewarding to have our software platform validated by actual customer field implementations and increasing recurring revenue," said Strange. "The whole CLOUD market is still in its infancy and adding support for Bosch creates a stronger opportunity".
ControlByNet will also be evaluating the Bosch cameras as an alternative for its hosted video offering to integrators and customers.
ControlByNet provides cloud-based surveillance solutions that allows businesses to host video offsite and allows integrators to offer hosted video to their customers. ControlByNet's advanced software is the cornerstone for the new security surveillance business model. By leveraging Software as a Service (SaaS), CBN's solution integrates seamlessly across its products creating limitless installation scenarios. The hierarchical nature of the software allows a single log-in with multiple levels of access from any (Internet) location which leverages existing enterprise resources. With customers hosting as few as 4 and some over 400 cameras, the solution is flexible, future-proof and designed to lead the industry. While the i-flashback interface is as simple to use as a nanny cam, both versions of the software are sophisticated enough to manage hundreds of remote cameras from a single browser including Internet Explorer, Firefox and Chrome as well as mobile devices such as the Droid, iPhone or iPad.. For more information, visit http://www.controlbynet.com.