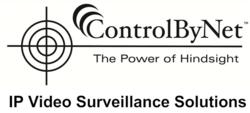 ControlByNet's i-flashback CLOUD allows HOA board members and property managers the ability to monitor the community with a unified, cloud-based, hosted video surveillance solution.
Atlanta, GA (PRWEB) April 23, 2013
ControlByNet, (CBN), a leader in cloud-based, hosted video security surveillance solutions, announced today its work with the Flowers Crossing Community in providing a long-term security solution that helps them protect their property, as well as minimize day-to-day security worries. Just in time for pool season, ControlByNet's i-flashback CLOUD allows HOA board members and property managers the ability to monitor the community with a unified, cloud-based, hosted video surveillance solution. It also provides a centralized access solution for property managers and management companies to put multiple communities under one 'umbrella'.
"For the last four years we have provided Flowers Crossing with a solution that includes no video storage onsite, email alerts when problems arise and nothing for vandals to steal, deterring malicious vandalism while providing residents with a greater sense of security," said Ryan Strange, CEO of ControlByNet. "ControlByNet provides HOAs like Flowers Crossing with a solution that helps them protect the property, as well as minimize the day-to-day security worries."
Flowers Crossing Community has worked closely with ControlByNet to develop a solution to protect their property and deter vandalism. Located in a quiet suburb of Atlanta, the community of Flowers Crossing began seeing incidents, from both its residents and unwanted visitors, including spray painted doors and tennis screens, late-night swimming and horseplay, throwing chairs and concrete bags in the pool, loitering into all hours of the night and even breaking into the clubhouse and pool areas.
The HOA board began looking at options to stop the behavior; primarily, a video surveillance solution that could be accessed from anywhere including board members' homes and offices and by the police. One of the most important requirements of the solution was the need for the video to be recorded off of the property. The vandals already proved they could break into the pump-rooms and the clubhouse, so what was to stop them from simply following the camera cable and walking out with the evidence.
Flowers Crossing has two amenity areas, each with a pool and tennis courts. ControlByNet installed four Axis Communications cameras at each area. Using its i-flashback CLOUD video surveillance solution, ControlByNet provided Flowers Crossing with a result that left only cameras and a network switch at the locations. Using IP, or digital, cameras allows the community to have everything off site as well as higher quality images than analog cameras provide. The software also allows the two locations to appear as one for all the viewers; allowing quick access to review video archives or see live video at any time.
i-flashback CLOUD enables HOAs like Flowers Crossing to view one or multiple properties or areas over any web browser through a single log-in. With i-flashback CLOUD, recorded video is safely stored immediately off site. There is no 'store and forward when convenient'; with i-flashback CLOUD, it is immediately safe and secure.
Cloud-based surveillance provides businesses with many advantages including:
● Prevent Video Evidence Theft
● Minimize Costs of Onsite Hardware Requirements
● Reduce On-Site Management
● Backup Key Cameras to a Primary System
● Convert Analog Cameras to the Cloud
"The ControlByNet solution has provided us with valuable information and helped cease the reckless activity. Once word got out that we were on 'candid camera' and that the video was all off site things really settled down," said Lance Graves, Flowers Crossing HOA board member. "In addition, we have been able to continue to improve our system with little to no extra costs over the last four years. We have also seen benefits beyond security. We now use the system to check on lifeguards, pool service and ground maintenance workers and the board can do this from anywhere with an Internet connection."
About ControlByNet (http://www.controlbynet.com)
ControlByNet provides the most advanced adaptable hosted and managed IP-based surveillance solution on the market. ControlByNet's advanced software is the cornerstone for the new security surveillance business model. By leveraging Software as a Service (SaaS), CBN's solution integrates seamlessly across its products creating limitless installation scenarios. The hierarchal nature of the software allows a single log-in with multiple levels of access from any (Internet) location which leverages existing enterprise resources. With years of development, their software solution is flexible, future-proof and designed to lead the industry. While the i-flashback interface is as simple to use as a nanny cam, both versions of the software are sophisticated enough to manage hundreds of remote cameras from a single browser including Internet Explorer, Firefox and Chrome as well as mobile devices such as the Droid, iPhone or iPad. They currently use AXIS for remotely hosted cameras but will expand to others as manufacturers provide IP cameras that are deemed highly efficient on the network. For more information, visit http://www.controlbynet.com.