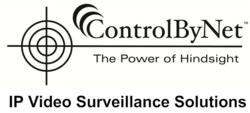 ControlByNet Announces "Dash the DVR: Take it to the Cloud: Five Reasons to Make the Move"
Atlanta, GA (PRWEB) November 20, 2012
ControlByNet, a leader in cloud-based, hosted video security surveillance solutions for dealers, installers, businesses and security companies, announced today "Dash the DVR: Take it the Cloud: Five Reasons to Make the Move" to help retailers and other small businesses this holiday season. ControlByNet's i-flashback provides businesses with alerts and secure video to help fight crime, as well as improve sales and operations.
"The FBI reports nearly 400,000 burglaries between November and December each year. Lucky for retail outlets and police departments, no longer are businesses relying solely on analog DVRs which can become 'victims' of crimes themselves as thieves destroy or steal them," said Ryan Strange, CEO of ControlByNet. "Hosted cloud-based video surveillance allows businesses and retail outlets to monitor their stores from anywhere on any Internet connected device."
Dash the DVRs: Take it to the Cloud: Five Reasons to Make the Move
Businesses need a security solution that helps them protect their businesses, as well as minimize their day-to-day security worries. Hosted video surveillance provides an effective solution that allows them to build for the future instead of buying from the past.
1. Nothing Onsite: No video storage onsite, only network (IP) cameras and a switch. There is nothing for vandals or mischievous kids to steal that contains the evidence. Once an act is recorded it is securely stored away from the property in a safe environment.
2. Always Someone Watching: ControlByNet knows when cameras, Internet or power has been interrupted. Instead of going weeks without knowing the DVR is off, the system alerts you to the outage so it can be fixed immediately. This greatly reduces the responsibility on the manager, owner or individual accountable.
3. Up-to-date Technology: ControlByNet's i-flashback solution allows users to control who accesses the video and archives from any location with Internet access. In addition, cloud-based systems are always up to date with newest technology including access from mobile devices such as smartphones and tablets (including iPhone, iPad and Droid). In addition, technology enhancements are automatically added with no cost to end user.
4. Affordable: Cloud-based systems provide a lower cost of entry since there are no server or DVR purchases. They also provide a steady rate for service, providing greater ease of planning and budgeting.
5. Single Solution for Multiple Areas/Locations: With cloud-based solutions, users can easily combine physically separate locations to keep a single login and view of cameras. ControlByNet's hosted video security surveillance can combine any combination to work as a single solution.
ControlByNet customers include retailers, restaurants, communities, apartments, industrial and many other industries. All experience the benefits of hosted, or cloud-based, IP video surveillance first-hand. Recently a Tires Plus franchisee had someone break in and steal some tires and computers. Unfortunately for the owner, the robber also picked up the DVR and walked out with the evidence. The owner made a quick call to ControlByNet. With i-flashback there is no data onsite to steal, and there have been many who have been caught in criminal activity that tried to find the proof and had no luck. Using the multi-site compatibility, the owner can login and see all locations in a list and look through live/recorded video just as if they were there, and each manager can also log into his/her respective location using the same branded portal.
About ControlByNet (http://www.controlbynet.com)
ControlByNet provides the most advanced adaptable hosted and managed IP-based surveillance solution on the market. ControlByNet's advanced software is the cornerstone for the new security surveillance business model. By leveraging Software as a Service (SaaS), CBN's solution integrates seamlessly across its products creating limitless installation scenarios. The hierarchal nature of the software allows a single log-in with multiple levels of access from any (Internet) location which leverages existing enterprise resources. With years of development, their software solution is flexible, future-proof and designed to lead the industry. While the i-flashback interface is as simple to use as a nanny cam, both versions of the software are sophisticated enough to manage hundreds of remote cameras from a single browser including Internet Explorer, Firefox and Chrome as well as mobile devices such as the Droid, iPhone or iPad. They currently use AXIS for remotely hosted cameras but will expand to others as manufacturers provide IP cameras that are deemed highly efficient on the network. For more information, visit http://www.controlbynet.com.