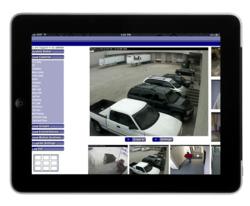 BUILDINGS magazine has selected ControlByNet's i-flashback CLOUD as a 2013 Money-Saving Product winner.
Atlanta, GA (PRWEB) June 25, 2013
ControlByNet, a leader in cloud-based, hosted video security surveillance solutions for dealers, installers, businesses and security companies, is proud to announce that BUILDINGS magazine has selected i-flashback CLOUD as a 2013 Money-Saving Product winner. ControlByNet's i-flashback CLOUD provides businesses with immediate storage on the cloud to help fight crime, as well as improve sales and operations by allowing the owner to focus on the business instead of whether the cameras are on or off.
i-flashback CLOUD is part of an elite group of 53 products that is showcased in the magazine's June 2013 issue. Finalists were evaluated by the BUILDINGS editorial staff for the money-saving qualities they offer to building owners and facility managers in areas such as energy consumption, water savings, lighting, envelope improvement and maintenance.
"Security today is more than the protection of people, companies and their assets; it is also an integral part of a company's reputation and success and we see this everyday with our clients," said Ryan Strange, CEO of ControlByNet. "In today's tight economy, companies are looking for systems that save resources and decrease overall security and maintenance costs. We are excited that Buildings Magazine has recognized i-flashback CLOUD as a money saving solution for businesses of all size."
[MONEY-SAVING PRODUCT WINNER - SURVEILLANCE
Cloud-based surveillance provides cost-saving advantages such as minimizing costs of on-site hardware needs, converting analog cameras instead of buying new and allowing and reducing the requirement of onsite staff to handle the surveillance system. i-flashback CLOUD enables users to view one or multiple properties over any web browser through a single log-in and on any Internet connected device.
With i-flashback CLOUD, recorded video is safely stored immediately off site. There is no 'store and forward when convenient'; with i-flashback CLOUD, it is immediately safe and secure. There is no video stored onsite so small businesses are ensured no theft of video can occur in the event of a break-in. Supporting features include fully configurable motion detection and email alerts for events.
About BUILDINGS
BUILDINGS magazine serves over 74,000 commercial building owners and facilities management professionals in North America. The monthly publication helps readers make smarter decisions relevant to the management, modernization, and operation of their facilities.
About ControlByNet
ControlByNet provides cloud-based surveillance solutions that allow businesses to host video offsite and allows integrators to offer hosted video to their customers. ControlByNet's advanced software is the cornerstone for the new security surveillance business model. By leveraging Software as a Service (SaaS), CBN's solution integrates seamlessly across its products creating limitless installation scenarios. The hierarchical nature of the software allows a single log-in with multiple levels of access from any (Internet) location which leverages existing enterprise resources. With customers hosting as few as 4 and some over 400 cameras, the solution is flexible, future-proof and designed to lead the industry. While the i-flashback interface is as simple to use as a nanny cam, both versions of the software are sophisticated enough to manage hundreds of remote cameras from a single browser including Internet Explorer, Firefox and Chrome as well as mobile devices such as the Droid, iPhone or iPad. For more information, visit http://www.controlbynet.com.