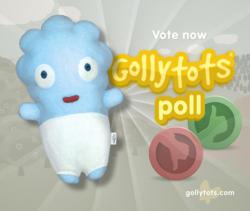 I wanted to write-out the wrongs of the traditional golly, and create a new, positive children's character with anti-discrimination under-pinnings
Edinburgh, UK (PRWEB UK) 15 May 2013
D.H. Wallace, a children's author and illustrator who was labelled a 'golliwog' as a curly-haired schoolboy, has created a politically-correct golly. The PC golly first appeared a few weeks ago in a pre-school picture book called 'Gollytots; Black and white'. Following an unexpected block on the picture book's launch press release, production of the Gollytots soft toy was put on hold indefinitely by Bambino Media, a UK-based publishing & production business. The company will consider re-starting production of the Gollytots doll if there is enough positive public feedback via the online poll.
Speaking of his childhood, author D.H. Wallace said: "I got a fair bit of verbal abuse at school due to my curly hair." Adding, "Even though my curls are long gone, creating Gollytots was unfinished business for me." He continued, "I wanted to write-out the wrongs of the traditional golly, and create a new, positive children's character with anti-discrimination under-pinnings".
Andrea Stevenson of Bambino Media said: "We want feedback from the public. We feel there's nothing wrong with Gollytots assuming that you look at them without prejudice, however the problems that we had with the picture book's press release led us to believe that for some people, Gollytots isn't quite politically correct enough." She added, "While we're 100% sure about the positive intent of the characters and stories, we understand these are open to misinterpretation." She continued, "That said, we get the feeling that PC extremists are completely missing the point. They're actually choosing to embrace misinterpretation of Gollytots in the pursuit of 'holier-than-thou' political correctness, rather than take the time to look objectively at the characters through the untainted eyes of a young child."
The online poll is up and running now at gollytots.com. 'Gollytots; Black and white' retails at around £2.99 / €2.99 / $4.99 and can be purchased through Amazon for Kindle Fire, and the Apple iBookstore for Apple iPad.
###ENDS###
About the author
D.H. Wallace is a writer, illustrator and an award-winning creative director with an advertising & design agency background. Most of his earlier career was spent in animation and television working with broadcasters including the BBC, ITV, Channel 4, and UK Gold. D.H. has worked on children's programmes such as 'Fully Booked' (BBC), 'Red Amber Green' and 'Now you see it' (STV) as well as participating in the BBC CBeebies Writer's Lab. He now focusses on writing and illustrating for children. D.H. lives in Stirling, UK. His other books include the 'Splash the lifeboat' series launched in 2012.
About the publisher
Bambino Media: Gollytots and the 'Gollytots; Black and white' picture book for children is brought to you by Bambino Media, a young, fresh and small independent publishing and production company based in the UK.
Links
Gollytots images (for media/press use only): gollytots.com/press
'Gollytots; Black and white' on Amazon UK (ASIN: B00BKPWGHE):
http://www.amazon.co.uk/dp/B00BKPWGHE
'Gollytots; Black and white' on Apple iBookstore UK (ISBN: 9780957246454):
https://itunes.apple.com/gb/book/gollytots-black-and-white/id600964226