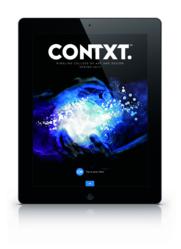 With CONTXT as an iPad app we are offering engaging interactive features with their own inner logic—and we're pushing the envelope on exploring the potential of this format by tailoring content with embedded multimedia and consistent updates.
Sarasota, FL (PRWEB) May 09, 2013
Ringling College of Art and Design today announced the launch of CONTXT Magazine as a media rich, no-cost iPad application, downloadable PDF file and glossy print publication. CONTXT will be published biannually and focuses on the culture and convergence of art and design through visually rich artwork and intriguing profiles on students, alumni, faculty and visiting artist and creatives. In line with being named by US News as the 'Most Wired' campus in the US, Ringling College is again at the forefront of technology with developing CONTXT in a complementary iPad edition format that is highly interactive and content-rich with images, video, links and other multimedia features. CONTXT is the next iteration in the continual evolution of Ringling College's communications efforts, replacing the award-winning college magazine formerly named 'Perspectives.'
Regular CONTXT features include '0 to 60', highlighting recent Ringling graduates who are pursuing their dreams doing the creative work they love and trained for in positions landed within 60 days of receiving their diplomas. 'Cross Section' breaks the profile mold with unpredictable snapshots of Ringling's amazingly diverse student family. 'The 2700' explores Ringling's cultures and subcultures and 'Cameos' offers a few more minutes of fame to the visiting artists and creatives who join us on campus, with 'Dark Knight' cinematographer Wally Pfister featured in the premier issue. 'Looking Forward' offers faculty predictions on our brave new creative world, with futurist David Houle sharing his insights in this inaugural edition.
"What used to be a monologue just became a conversation," said Ringling College president Larry R. Thompson. "CONTXT shines the spotlight on student life and gives our students a voice. It captures the entire experience of being a Ringling College student—before, during and after graduation. CONTXT is experiential, experimental, unpredictable and fun. With CONTXT as an iPad app we are offering engaging interactive features with their own inner logic—and we're pushing the envelope on exploring the potential of this format by tailoring content with embedded multimedia and reenergizing issues with consistent story updates to keep them fresh. We welcome and look forward to your opinions, insights and reaction to CONTXT – with it Ringling College's reach, impact, influence and visibility has taken a quantum leap."
The CONTXT iPad app was created by Jennifer Mumford Brady, the creative director of Ringling College's Design Center, Cody Maple, a full-time Designer Center staffer, and Ringling student Justin Vachon, whose class project was to re-design the College's magazine and create an iPad version of it. Cody and Jennifer are responsible for the award-winning design of Ringling's former 'Perspectives' magazine. The Ringling College IT department was essential to the effort in providing and integrating hardware and software and managing the developer accounts. CONTXT was produced under the auspices of Jim Dean, Ringling College's Executive Director Marketing & Communications and Dean of Admissions. The front cover of CONTXT features an active animation created by Ringling students Jason Beale and Audrey Aquino for the Sarasota Film Festival.
According to Justin Vachon, who graduated from Ringling College this May, "Working on CONTXT was something I never thought possible as a student. Being given such a responsibility was flattering and daunting at the same time. Doing both iPad and print versions of the experience really allowed me to grow as a designer as well as graduate with a proven project portfolio."
"Redesigning the College magazine presented us with several opportunities," said Cody Maple, a full-time designer in the Ringling College Design Center. "Key among these was rethinking the way in which we present our content and how that content is distributed to our audience. The explosion in digital publishing has given companies the ability to reduce print costs and increase reach. We are now producing publications which are interactive and engaging and for which results can be tracked in real time via any number of analytical tools. In short, creating CONTXT was about more than just redesigning a magazine - it was about capitalizing on the opportunity to increase our influence by giving anyone in the world access to our content."
Jim Dean, Ringling College's Executive Director Marketing & Communications and Dean of Admissions, said that, "Ringling College has always been on the cutting edge and it made perfect sense to transform our award-winning magazine with a new title, design, and interactive format. Now anyone in the world with an iPad can share the Ringling experience instantly with the swipe of a finger."
CONTXT is published biannually by the Office of the President of Ringling College of Art and Design.
The CONTXT iPad app is available at no cost to anyone, regardless of location. The CONTXT iPad app also offers subscriptions - Once downloaded from Apple's Newsstand, if you choose the 'Subscribe' option, you will automatically be notified when a new issue is available for download. You can easily share CONTXT with friends and colleagues by sending them a link to where they can download the issue themselves. When viewing the issue on an iPad, tap the icon in the top right corner (the one with three small dots). A menu will drop down with options to send an email or a text message. Select one of these options and the title of the current page you are viewing in the app along with a link to the app store will be sent to your recipient.
For assistance, support and/or questions, please email contxt[at]ringling[dot]edu.
The full iPad app link is: https://itunes.apple.com/us/app/contxt-magazine/id638301808?mt=8.
About Ringling College of Art and Design
Ringling College of Art and Design is a private, not-for-profit, fully accredited college offering the Bachelor's degree in 14 disciplines: Advertising Design, Business of Art & Design, Computer Animation, Digital Filmmaking, Fine Arts, Game Art & Design, Graphic Design, Illustration, Interior Design, Motion Design, Painting, Photography & Digital Imaging, Printmaking, and Sculpture. Located in Sarasota on Florida's Gulf Coast, the picturesque 48-acre campus now includes more than 110 buildings, and enrolls 1,368 students from 44 states and 53 countries. It is recognized as being among the best and most innovative visual arts colleges in the United States as well as a leader in the use of technology in the arts.
Visit http://www.ringling.edu for more information.
###