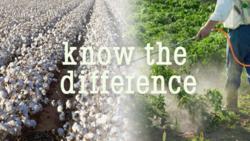 San Francisco, CA (PRWEB) May 31, 2013
Most consumers know to research mattresses before buying, but may overlook the importance of the mattress cover. A recent article from TheBest-Mattress.org offers consumers an in-depth look at the role of cotton when it comes it latex mattresses in particular. As cotton continues to be a popular fabric for clothes, bedding and more, the differences between conventional and organic cotton in terms of their impact on health and the environment gain importance.
The article, titled "Latex Mattress Questions: Conventional or Organic Cotton Cover?", helps readers understand differences and determine which is best for their lifestyle. It begins with an overview of of common materials used in covers for latex mattresses. These typically include cotton and wool, though the latter is primarily used for wool for padding and as a fire barriers. Preference in the market for cotton is based on general benefits like breathability, comfortable feel, and durability, applicable to both organic and conventional varieties.
Then, The Best Mattress explains how conventional cotton is grown and the impact that pesticides used in this method have on the environment. Figures that stand out, collected from the Organic Trade Association website, include that 25% of all insecticides and 10% of all pesticides used worldwide are for conventional cotton, which only accounts for 2.5% of crops by land mass. In real terms, this translates to as much as one-third pound of chemicals per cotton t-shirt produced. In turn, these pesticides contaminate water, soil, food, and harm ecosystems.
Consumer concerns are also addressed, as these can often be more important to individuals when making purchasing decisions. Potential issues in this regard include the prevalence of suspected and known carcinogens remaining in a product that comes in close contact with sleepers for eight hours per day. While more pressing for laborers, the residual pesticides can still contribute to health concerns once in consumers' homes.
Price comparisons between conventional and organic cotton covers are the third key point within the article. Higher farming costs and more man hours contribute to higher prices, but when compared to other mid-range and high-end mattresses, difference is minimal, and consumers must consider their personal priorities in this regard.
The Best Mattress highlights the point that people shopping for natural latex are likely to have some concern about chemicals or eco-friendliness, and that organic cotton preserves the benefits of the natural latex unlike conventional.
Also included in the article is a comparison table of four latex brands with organic cotton covers. The blog selected only those who clearly mention the certifying body and offer all-natural options. Of the four presented, they highlight 100% natural Talalay latex mattresses from Astrabeds.com, which tied for lowest starting price and the exhibited highest average review scores. Their covers are certified organic (GOTS), with Oeko-Tex 100-certified latex.
As consumers continue to become more aware of the impact they have on the environment and how that in turn impacts humanity for generations, the use of natural and organic materials is expected to increase. The article from The Best Mattress brings up important points of consideration for those considering a new bed, with concrete benefits presented for organic cotton.
TheBest-Mattress.org is a mattress education blog that offers insightful guides and product comparisons for consumers. The website reports on a range of topics from mattress brands to shopping tips, offering an unbiased and well-informed at look at the facts.