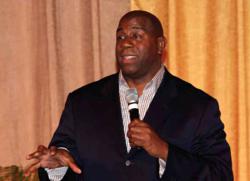 Low price should never be equated to quality or using the intern or an employee's family member to be the convention photographer to save money.
Houston, TX (PRWEB) June 19, 2013
Convention Photography is a skill set. Professional Images Photography took time to offer some tips and advice when searching for the right company. Since 1987 Joseph Rodriguez owner of Professional Images Photography has been providing Associations, Conference Groups and Tradeshow with highly skilled Convention Photography services. The introduction of digital cameras has changed the way photos are taken and more importantly who is hired. It is assumed more times than not, that anyone can pickup a camera and be a Pro. This is not true and never will be true. To understand the scope of Convention Photography is to consider the various photo needs that are often required. A Convention Photographer's job is to capture more than just people smiling or looking at the camera, the job of the convention photographer is to tell a story with images that do not need a cut line. A keynote speaker is the star of the convention and often the reason that many attendees come. Capturing the speaker in his best moments are not as easy as pointing a camera. The convention photographer has to know what lens to use and shoot from a distant as not to distract the audience. In addition covering a breakout or event requires the ability to capture candid moments that aren't posed.
Tips to hiring a Convention Photography company.

Ask for the most recent photos from a convention not a wedding or family party, just of Speakers, breakouts, and attendee shots.
Require a minimum of 3 references and call or email references.
If they only specialize in Convention Photography (not weddings, portraits etc.) then you are on the right track.
Does the website show only convention and corporate event related photography? If no then keep looking. Specializing insures quality.
Does website show samples of convention work?
How long as the company been in business?
Ask the company if full time business or a part time business. Many people now buy a digital camera and get a website and call themselves Professional photographers.
These tips are important to your success. Low price should never ever equate quality or using the intern or an employee's family member to be the convention photographer to save money.
About:
Professional Images Photography provides Conference Photography, Green Screen and Onsite Printing Photography and Event Photo Marketing photography services Nationwide. Based in San Antonio, TX with offices in Houston, Orlando, Washington D.C. and now in Las Vegas, NV.1.888.486.3241