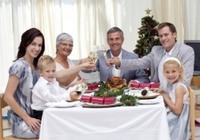 A dagger comment has ill intent to wound someone
Ipswich, QLD (PRWEB) December 15, 2009
There's no need to dread a family get-together these Christmas holidays when you discover a series of simple conversation skills from communication skills coach Joshua Uebergang, to befriend even the most cold-hearted in-law.
Holidays are a time for relaxation and connection with loved ones, but unfortunately most people sap their energy in conflict where better communication could save relationship-tension and ultimately a miserable holiday. "Without good relationship communication, holidays can suck," says Uebergang, also known as the Tower of Power. "Positive communication can be toughest with family because we take loved ones for granted."
The six-foot-nine coach who provides conversation skills to build friends and influence has four easy-to-use tips to make the next family member - even stranger, coworker, or client - you talk with leave the interaction thinking you are a wonderful person:
1. Avoid dagger comments. "A dagger comment has ill intent to wound someone," says Uebergang. "Do not use dagger comments like inappropriate jokes or innuendos. There's a time, place, and way to express your feelings. Telling your step-brother he's a jerk over Christmas dinner disobeys all three conditions. Resentment needs to be expressed in a healthier way."
2. Compliment everyone at least once. Criticism is a thorn so common in family, social, and workplace conversations, according to Uebergang, that praise becomes a glistering rose everyone admires. "We all have something you can compliment on," says the Tower of Power. "It's a matter of overcoming a tendency to fault-find and making an effort to admire another's good qualities. You'll be remembered for your sweet words while others are being hated for their dagger comments."
3. Show interest by asking questions. Holidays are a great time to catch up with your family's lives - you do this by encouraging relatives to talk. "Everyone likes to feel important. Displaying interest in a person's life shows you care about them," says Uebergang, "One of the best ways to show interest is asking more questions. Learn about another's children, work, New Year aspirations, and big events. When you show authentic interest in people, they walk away from the conversation feeling you were a wonderful talker."
4. Talk to everyone. Start conversations with as many loved ones as time permits. "The temptation with any social event is to stick around who you know," says the Uebergang. "Real joy can also come from re-building a weak relationship or starting a new one. Make a sincere effort to approach others and ask them questions about their life."
"Christmas presents can be forgotten by the New Year," says Uebergang, "but the gift of one good conversation can make you remembered for years to come. Share the gift of good conversation with those you love."
Joshua Uebergang is author of Big Talk: Effortlessly Talk to Win Friends Anywhere with the Real You. Sign-up to his free eNewsletter for free conversation skills training to make friends with anyone by visiting: TowerOfPower.com.au/free.
###