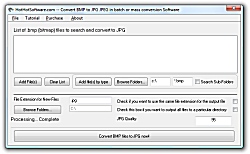 As a graphics and web designer I found this utility indispensable.
Los Angeles, CA (PRWEB) February 26, 2013
New software from HotHotSoftware allows both regular computer users, as well as developers to easily save massive amounts of time with the Convert BMP to JPG JPEG conversion software.
The world is becoming more and more a visual society. From photographs being posted on FlickR, to Instagram, and photos being shared on websites like Facebook and Pinterest. Many times users have photographs in bitmap format, which are not supported on a lot of these sites. To convert single images one by one is a very time consuming process. HotHotSoftware has streamlined this process, allowing users to convert multiple bitmap images with the click of a button.
The software allows the user to select multiple BMP to convert to JPGs in seconds from different directory locations. Then, all converted files can easily be placed in one 'destination' directory, making access to the converted images easy. Finally, the quality of converted JPG images can be controlled, which can save on file size if the images are used as e-mail attachments, and so forth.
For more information, please click here.
About HotHotSoftware.com
HotHotSoftware is a company that specializes in developing various utilities, applications and solutions to help speed up development time, and increase personal and business productivity. Applications range from flash based applications, to Microsoft Excel, Word, and Access plugins, to utilities and custom software development.
HotHotSoftware has been featured in various online and offline publications, websites, and editorial sites. For complete details, visit hothotsoftware.com.
In addition, companies that are looking for unique custom software and solutions can contact HotHotSoftware for a quote.