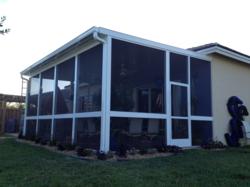 We essentially overbuild the screened enclosure now to make it strong enough to become a sunroom later.
Miami, Florida (PRWEB) October 31, 2012
Families grow, and so do their needs for living space. Venetian Builders, Inc., has designed structures that can help a family's home grow as its needs change. Homeowners can expand their homes as their budgets permit. Venetian Builders is the leading installer of quality screened enclosures, patio enclosures and sunrooms in Miami, Fort Lauderdale, Palm Beach and their surrounding communities
Because of its building experience and familiarity with codes, Venetian Builders understands what must go into a screened patio room to make it strong enough for sunroom conversion.
"The key is in the planning, in the design," said Nicholas Nafpliotis, Venetian Builders project manager. "A sunroom will have to handle heaver loads than a screened space does. We essentially overbuild the screened enclosure now to make it strong enough to become a sunroom later."
When the time comes to convert to an enclosed glass or insulated sunroom, the framing will meet the tough Florida Building Code, Nafpliotis said.
"It's stronger than you need now, but it's what you'll need later to convert to a sunroom," Nafpliotis said. "Besides, it just means you have a stronger screened enclosure that's better able to stand up to hurricanes."
Building-in strength now can save money later, Nafpliotis said, by making it unnecessary to tear down what's already built. It also can save time by making it easier to get code approval for the changeover to a sunroom, he added.
With conversion in mind, Venetian uses 6-inch insulated roof panels with embedded metal channels for installation of lighting and fans; a 4-by-4-inch carry beam under the peak of the roof for increased strength; and one-eighth-inch-thick, 3-by-3-inch or 4-by-4-inch chair rail to accommodate later installation of glass or acrylic windows above the rail, and glass, acrylic or insulated knee walls below the rail.
With proper heating and air conditioning, sunrooms are true year-round living space that will save on construction costs versus concrete block, and on taxes because they are not assessed as habitable space, Nafpliotis said.
Venetian Builders offers free, detailed estimates on convertible screened enclosures in Coral Springs, Delray Beach, Palm Beach Gardens and all other South Florida communities. For more information, call Venetian Builders at 866-596-2427.