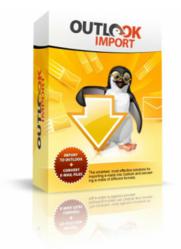 Efforts free email migration to Outlook!
Sacramento, CA (PRWEB) July 11, 2012
Since Microsoft Outlook is a very popular solution for email exchange, collaboration and time management in the corporate world, an ever-growing number of users are switching to it from various email clients. However, due to the differences in message formats, this task cannot be fulfilled simply by clicking a button or two either in Outlook or the source application.
Outlook stores messages, attachments, tasks, contacts and all other types of objects in a single format – PST. PST files are multi-purpose containers that can be connected to or disconnected from Outlook and importing data to them requires special tools like Outlook Import Wizard from http://www.outlookimport.com.
Outlook Import Wizard is an intelligent and easy-to-use tool designed for converting email messages in EML and MSG formats to PST, the native Microsoft Outlook data storage format. The software dramatically facilitates email migration from such programs (among many others) as The Bat!, Thunderbird, Mac Mail, Netscape Mail, IncrediMail (read more) and, of course, Windows Mail (read more), thanks to the support of TNEF (DAT) files. The latest version of Outlook Import Wizard is full of improvements: batch mode support, ability to generate multiple PST files from a set of message folders, ability to import contacts in the VCF (vCard) format from any sources and, finally, ability to import files of any format to PST files.
Once imported, these files can be manipulated as regular messages – moved, forwarded, deleted and so forth – and that can be especially useful for sales managers, client support personnel and other professionals who need an easy way to quickly access and resend frequently requested files. The software offers plenty of email preprocessing and conversion options that can be used for fine-tuning the conversion process, formatting emails to meet specific requirements or narrowing the scope of conversion to files with specific parameters. These options also help import emails originating from exotic email clients and non-mainstream operating systems.
Outlook Import Wizard was designed with a focus on user-friendliness and ease of use. Featuring a wizard-based interface translated into a number of languages, it can be used by people with basic computer skills, thus allowing companies and individuals to save on expensive third-party services and reduce the time necessary for setting up new workplaces. Users looking for basic EML to PST and MSG to PST conversion functionality will find it extremely convenient to import their email archives to Outlook PST files with just several mouse clicks, while system administrators and support managers will appreciate the flexibility offered by Outlook Import Wizard's import options.
Site: http://www.outlookimportwizard.com
Download: http://www.outlookimport.com/download/
Users about us: http://www.outlookimport.com/testimonials/