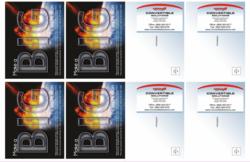 Conversations on Twitter and Facebook give us a better understanding of the interests and concerns of the typical digital printer.
Sedalia, MO (PRWEB) November 29, 2011
Pre-converted mailer supplier Convertible Solutions has launched several social media sites for listening and sharing with the professional printing and design communities. The company currently has an active presence on Twitter, Facebook, YouTube and LinkedIn.
"The better we know our customers, the better we can serve them," explains David Williams, Convertible's Director of Business Development. "Participating in the conversations on Twitter and Facebook gives us a better understanding of the interests and concerns of the typical digital printer. When we find or create content that we feel is particularly interesting, we also use these platforms to share that information."
You can find Convertible Solutions on Facebook at http://www.facebook.com/ConvertibleSolutions. The links on the Facebook page feature customers who use Convertible products, news about new Convertible Solutions products, and articles about other companies with innovative approaches to photo books, photo gifts or direct marketing. The page is updated with new links almost daily.
Follow Convertible on Twitter @Convertsols. "The people we follow and those who follow us on Twitter include experts in digital printing, publishing, graphic design and marketing," notes Williams. "We usually post or retweet information that we believe our followers will find useful several times each day."
On YouTube, the company has been focusing primarily on instructional videos which explain how printers can use Convertible Solutions pre-converted papers and equipment to build their digital printing business. The address for the YouTube channel is http://www.youtube.com/user/ConvertibleSolutions.
Convertible also has a company profile on LinkedIn, but most of the conversation takes place on an individual level. Several members of the Convertible Solutions team have LinkedIn profiles and frequently contribute to group conversations and post news and commentary about digital printing.
Some of the links shared on the social media sites reference news and blog posts from the company's website http://www.ConvertibleSolutions.com. Recent blog posts have explored the history of marketing, how to get started in photography and the role of direct mail in a multichannel campaign. In addition, there are often links to posts on the creative process, photography and digital printing from The Creativity Paradox blog at http://www.creativityparadox.blogspot.com.
Convertible Solutions is a subsidiary of Inter-State Studio and Publishing company that supplies specialized substrates for digital printing, photo book manufacturing and personalized direct mail. The company makes a full line of pre-converted stocks for envelopes, mailers and cards. Convertible's TRU-Flat® book binding technology is incorporated in Mohawk Fine Paper's Panoramic book product line.
###