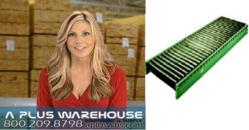 A Conveyor Order Must Ship From Stock. A Plus Warehouse Will Provide Next Day Shipping On Popular Conveyors
Boston (PRWEB) January 10, 2013
A Plus Warehouse is a national conveyor distributor offering conveyor lines including Rollaway, Roach, and Best. When customers have conveyor applications, the need is typically urgent.
A Plus Warehouse has been offering roller conveyors with various roller diameters and widths typically 12 to 30 inches. The Heavy Duty Roller Conveyor by Roach can be used for handling wide loads such as pallets. When A Plus Warehouse added the Heavy Duty Roller Conveyor they decided to stock the wider sizes as well to help customers conveying bulk loads.Many customers are now ordering extra wide heavy duty conveyor sections and getting next day shipping.
According to Ed Stairman, "Conveyors need to ship from stock. A Plus Warehouse will continue to provide next day conveyor shipping for popular conveyors."
With the addition of the extra wide conveyor, customers will now be able to convey equipment as wide as 51 inches. Given a typical pallet is 48 inches wide, it is easy to see this conveyor was built for pallet handling. When supported every five feet, the conveyor will have a frame capacity of 7500 pounds over a ten foot run.
The individual rollers have a capacity of 540 pounds each. Next day shipping is offered even for large orders.
When looking at a potential conveyor application, customers should be mindful of a few issues.
(1) Conveyor rollers are typically set above the conveyor frame. Customers that wish to use a conveyor's frame as a rail should absolutely request rollers set low. Most conveyors can have rollers set low.
(2) Conveyors are provided without stands. Stands are available as an option in a range of heights.
(3) The Heavy Duty Roller Conveyor by Roach is a steel conveyor. Conveyors can be provided in aluminum and stainless as well.
(4) When ordering a conveyor , consider ordering extra rollers as rollers are spring loaded and easy to change.
(5) Roller center measures the distance between rollers in the conveyor. Customers should choose a roller center figure that guarantees a minimum of three rollers under the smallest conceivable load. A 6 inch package moving on a conveyor with 9 inch roller center will fall to the ground between the rollers.
Each of the three conveyor lines A Plus Warehouse sells fills their own niche , and each deserves some attention and praise.
--> Roach Conveyors – The leader in quick conveyor shipments. Roach provides aluminum and steel conveyors.
--> Rollaway Conveyor – Rollaway manufactures the King Conveyor line which is known for having large capacity. Rollaway also produces stainless steel conveyors and PVC roller conveyors as well. The Rollaway Mini Roller conveyor was the first gravity conveyor A Plus Warehouse offered.
--> Best Conveyor Company – Best Conveyor manufactures expandable roller and skate wheel conveyors. Best Conveyor even produces power expandable conveyors.
A Plus Warehouse is a nationwide materials handling dealer specializing in conveyor applications. Please call A Plus Warehouse at 800-209-8798 with any conveyor question.