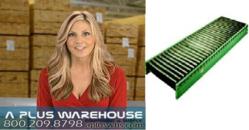 When you need conveyors now , you need A Plus Warehouse
Dallas,TX (PRWEB) September 19, 2012
Just recently, a major construction company needed 120 conveyors and 240 stands for a green energy job in the western part of USA. Where should a customer go with a thirty seven thousand dollar request for conveyors in stock? A Plus Warehouse is the answer, of course! A Plus Warehouse has been shipping quality Roach Conveyors from stock for over ten years, yet hasn't made their amazing performance public knowledge.
If A Plus Warehouse can fill an order of such great magnitude in 24 hours, customers can be assured that in stock orders of any size will ship on a next day basis. The cut off time for next day shipments is 1130. Customers should be aware that a good amount of the power conveyors, roller conveyors and skate wheel conveyors offered by A Plus Warehouse are stock series. Customers should ask when requesting information on conveyors if the model in question is an 'in stock' item.
According to Ed Stairman, "When you need conveyors now, you need A Plus Warehouse" Given A Plus Warehouse's experience with conveyor, the expected amount of free shipments will be zero for the duration of this promotion. The promotion will end for orders placed November 1, 2012 and later.
The following is a partial list of conveyors covered by the guaranteed in stock program:
(1) Roach 1 3/8 inch diameter roller conveyor – This is an excellent gravity conveyor for medium duty loads. A steel frame unit will be rated for 750 pounds if supported on a five foot center
(2) Roach 1.9 inch diameter roller conveyors – with rollers from 16 GA all the way to 9 GA. The heaviest duty version has a capacity of 260 pounds per roller and 3200 pounds for a 10 foot unit supported on five foot centers.
(3) Four different capacity ranges of 2 ½ inch diameter roller conveyors
(4) Two different capacity ranges of 3 ½ inch diameter roller conveyors
(5) Ball transfer tables
(6) Roach skate wheel conveyors in 12,18 and 24 inch width AND
(7) Various roller and slider bed power conveyors
Clearly, A Plus Warehouse takes shipping conveyors very seriously, and customers count on the A Plus Warehouse shipping guarantee. Of course customers expect more than lightning fast shipments. Customers also expect intelligent help from sales people that understand conveyor products and a fair price never hurt anything either.
A few words about A Plus Warehouse: A Plus Warehouse is a nationwide dealer specializing in conveyor equipment. A Plus Warehouse has a staff of sales people ready to help now at 800-209-8798