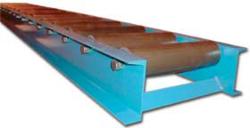 When we get an order for $30,000 of roller conveyor or powered conveyors shipped the next day, customers understand our commitment to prompt shipment
Chicago, IL (PRWEB) December 23, 2011
Any customer that operates a conveyor understands that conveyors keep things rolling. A Plus Warehouse is bringing attention to the fact that conveyors used appropriately will increase the efficiency in any plant. For the month of January, any customer that mentions "conveyors keep things rolling" will get a five percent discount on any conveyor ordered at the normal price. A Plus Warehouse provides the warehouse equipment in demand including roller conveyor by Roach Conveyors and Rollaway Conveyors as well.
In order to keep things rolling, conveyors need to be shipped promptly. When a conveyor is ordered on a Monday, why wait two more Mondays for a shipment. With Roach Conveyors and A Plus Warehouse, an order placed before noon on Monday is likely to ship the very next day. According to Jim O'Sullivan, conveyors product manager at A Plus Warehouse, "Our conveyors keep things rolling. When we get an order for $30,000 of roller conveyor or powered conveyors shipped the next day, customers understand our commitment to prompt shipment."
There are several conveyor lines available in the quick ship line that merit explanation. Roller conveyors are available in stock with roller diameters of 1 3/8 inches up to 3 1/5 inches. When choosing a roller conveyor, roller center is important as enough rollers need to be under the load. Skate wheel conveyors are available in varying wheels per foot configurations in either steel or aluminum. Powered conveyors are also offered in live roller style and belt driven as well.
In terms of production conveyors, A Plus Warehouse offers the Rollaway King Conveyor with the highest capacity roller conveyor available. A Plus Warehouse offers stainless steel conveyors and a popular mini roller conveyor in the Rollaway line as well.
Both Rollaway and Roach Conveyors are fine lines that A Plus Warehouse is pleased and honored to provide. Each company has strengths that should be considered. Roach is among the best for immediate shipment of standard conveyors. Roach conveyors ship from Arkansas, which is a logical shipping point for a great many customers. Rollaway is produced in the rust belt. When ordering a Rollaway conveyor from A Plus Warehouse, Americans are being employed in manufacturing where manufacturing has been on a decline. Conveyors keep things rolling in more ways than one.
About A Plus Warehouse
A Plus Warehouse operates http://www.apluswhs.com and is a nationwide distributor for conveyors. Feel free to call A Plus Warehouse at 800-209-8798 or use the email included in this press release.
###