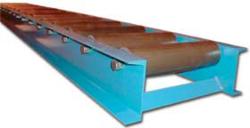 Austin, Texas (PRWEB) June 28, 2013
A Plus Warehouse is happy to introduce a new product to the conveyor line. A Plus Warehouse conveyors are only the highest of quality. When ordering a conveyor, there are so many options for a customer to explore. There are two main branches of conveyors. These branches are gravity conveyors and power conveyors.
Gravity conveyors are always in stock at A Plus Warehouse. There are three subsections in the gravity conveyor section. These subsections include roller, skate wheel, or expanding. Within these subsections the company offers many options. Before getting into that however, a customer may wonder who needs a gravity conveyor. This is a very good question. Any firm that transports products from one area to another may find one useful. Gravity Conveyors are also the most popular because it is easy. It utilizes gravity. As mentioned earlier, there are three types of gravity conveyors. First, there are the roller conveyors. Roller conveyors are the most popular of the gravity conveyors at A Plus Warehouse. Roller conveyors are used for unit loads. A Plus Warehouse roller conveyors go from .75 inches to 3.5 inch diameter rollers. This is a large variety. Next, there are skate wheel conveyors. This type of conveyor is perfect for transporting boxes, packages, and cartons efficiently. This is also great for assembly lines. Last but certainly not least are expandable conveyors. The name is self-explanatory. The conveyor expands. It is in this subsection that an A Plus Warehouse new product lays.
This amazing new product is a Hytrol product. This Hytrol Heavy Duty Expandable Conveyor is excellent. For one thing, this item is always in stock. It's nice to not have quick shipping times. This product is also available in 3 sizes, and to emphasize again- all in stock. This conveyor has 200 pound capacity per foot. This product is also relatively inexpensive with prices starting at 100.95 dollars.
Power conveyors are the other branch of conveyors. All A Plus Warehouse power conveyors are in stock nationwide. A Plus Warehouse offers so many power conveyors it is impossible to fit them all on the website. If a customer is looking for a product he or she cannot find on the website they should call 800-209-8798. Power Conveyors are a necessity when a gravity conveyor just can't do the job.
A Plus Warehouse is the operator of http://www.apluswhs.com and distributes materials handling and storage equipment nationwide and throughout Canada. The sales staff at A Plus Warehouse is available at 800-209-8798. A Plus Warehouse has been in constant operation since 1996.