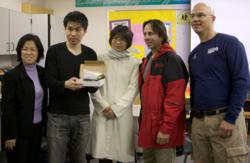 The radiation crisis makes this disaster like no other we have ever responded to
Springfield, Mo (Vocus/PRWEB) March 30, 2011
Friday morning crews at Convoy of Hope's World Distribution Center in Springfield, Mo., will fill a tractor-trailer with bottled water, blankets, cook sets, duel fuel stoves, lanterns, batteries, diapers, wet-wipes and toilet paper bound for Japan.
"The supplies will help survivors of the earthquake and tsunami who have lost everything," says Jeff Nene, public relations officer for Convoy of Hope. "Our goal is to begin to help them rebuild their fractured lives."
Japanese officials report more than 143,000 buildings were damaged or destroyed by the tsunami. Many homes were completely washed away prohibiting occupants from salvaging any of their belongings.
While in Japan, a team from Convoy of Hope was able to provide radiation detection equipment to in-country partners.
"The radiation crisis makes this disaster like no other we have ever responded to," says Paul Coroleuski, field services director for Convoy of Hope. "You can't see, smell or taste radiation and without specialized equipment, relief workers may be in danger and not even know it."
A physician on Convoy of Hope's team conducted training and a hands-on demonstration for Japanese nationals regarding the use of the equipment.
Please call for an exact time to videotape, shoot photos or other info:
Jeff Nene
Convoy of Hope / Senior Director/Public Relations -- Public Relations Officer
O-417.823.8998 Ext. 360
C-417.860.2196
jnene(at)convoyofhope(dot)org
http://www.convoyofhope.org
Convoy of Hope, founded in 1994, is a faith-based organization with a driving passion to feed the world through children's feeding initiatives, community outreaches, disaster response and partner resourcing.
###