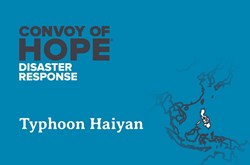 According to Kary Kingsland the response will be swift. 'We are working with our contacts and partners on several islands,' he says. 'That will help expedite the delivery of relief to survivors.'
Springfield, Missouri (PRWEB) November 08, 2013
Convoy of Hope's Global Disaster Response (GDR) has four shipping containers en route to the Philippines as the region begins to assess the damage sustained following Super Typhoon Haiyan. Additional containers are being staged at the World Distribution Center in Springfield, Mo.
According to Kary Kingsland, senior vice president of Global Initiatives for Convoy of Hope, the response will be swift. "We are working with our contacts and partners on several islands," he says. "That will help expedite the delivery of relief to survivors."
The first assessment team from Convoy of Hope will depart for the Philippines on Sunday to assist in-country staff with immediate response work and to plan the long-term response efforts.
In addition to the food and relief supplies, Convoy of Hope is sending much-needed water filtration units to the region.
Follow Convoy of Hope updates on Super Typhoon Haiyan: http://h.ope.is/1baZghf.
About Convoy of Hope
Convoy of Hope, an organization founded in 1994, has a driving passion to feed the world through disaster response, children's feeding initiatives, community outreaches, and partner resourcing. Convoy of Hope has a long history as an early responder in times of natural disasters and has been a Four Star Charity as recognized by Charity Navigator for nine consecutive years. For more information on Convoy of Hope, please visit http://www.convoyofhope.org.