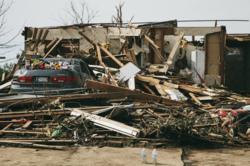 The devastation in places like Moore is why HopeMob exists," says Shaun King, CEO/ Founder of HopeMob.
Springfield, MO (PRWEB) June 13, 2013
Convoy of Hope partnered with online non-profit charity organization, HopeMob, which raised more than $46,000 to support Convoy of Hope's tornado disaster relief operations in Moore, Okla.
"Partnering with HopeMob is another example how working together with like-minded organizations really helps to be able to provide relief to disaster survivors in their time of need," says Hal Donaldson, president of Convoy of Hope. "I'd like to sincerely thank HopeMob and the many people who contributed to them in support of our efforts in Oklahoma. Those funds are helping families recover from what has been a traumatic experience."
HopeMob, going by the slogan "Crowdfunding with Compassion," utilizes the internet and social media to share stories of those in need to draw online financial support for each particular story. The organization raised $46,544 to support Convoy of Hope.
"The devastation in places like Moore is why HopeMob exists," says Shaun King, CEO/ Founder of HopeMob. "That community needed hope and help and they needed it fast. We decided we could be able to offer more help if we joined together with Convoy of Hope in a combined fundraising effort rather than working separately. The goal of $15,000 was well exceeded by a generous outpouring of support from people all over the country."
To-date, Convoy of Hope has dispatched more than two dozen tractor-trailer loads of supplies to Moore since the tornado hit and continues to provide help by coordinating volunteer teams in removing debris. Convoy of Hope will remain in the tornado-impacted regions through the recovery and rebuilding phases.
About Convoy of Hope
Convoy of Hope, founded in 1994, has a long history as a first responder in times of natural disasters and has been a Four Star Charity as recognized by Charity Navigator for nine consecutive years. Convoy of Hope, a faith-based organization, has a driving passion to feed the world through children's feeding initiatives, community outreaches, disaster response and partner resourcing. Additional information about Convoy of Hope can be found by visiting http://www.convoyofhope.org.
Convoy of Hope Contacts:
Jeff Roman, 417-942-7570 (M)
Public Relations Desk
jroman(at)convoyofhope(dot)org
or
Jeff Nene, 417-860-2196 (M)
National Spokesperson
jnene(at)convoyofhope(dot)org