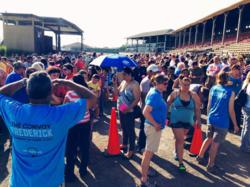 Long Island, NY (PRWEB) June 06, 2013
International humanitarian organization, Convoy of Hope, is partnering with area local businesses, churches, government agencies and nonprofits in Long Island, N.Y., to host a community outreach event this Saturday, June 8, at Mitchell Athletic Field in Uniondale. This community event is one of dozens of stops along the 50-state, $50 million tour of hope and help for the 46 million Americans currently living in poverty — the largest number on record according to the U.S. Census Bureau.
WHAT: A free Long Island community event to help the poor and suffering that will provide more than $1 million in goods and services in a single day through food, clothing, job counseling, dental check-ups, haircuts, family portraits, a kids carnival and more.
WHY: Provide an opportunity for neighbors to help neighbors who are living in poverty the the Long Island area.
WHO: Convoy of Hope, communities of Long Island, Plum Organics and dozens of local organizations, businesses and churches.
WHEN: Saturday, June 8, 2013, Gates open at 10:00 a.m. (Rain or Shine)
WHERE: Mitchell Athletic Field
1 Charles Lindbergh Avenue
Uniondale, New York 11553
MEDIA OPPORTUNITIES:

Highlight New York City-area residents
Interview local families benefiting from poverty-free day
Speak with national leaders from Convoy of Hope
Learn more about the outreach by visiting http://li.convoyoutreach.org/.
About Convoy of Hope
Convoy of Hope, a faith-based organization founded in 1994, has a driving passion to feed the world through community outreaches, children's feeding initiatives, disaster response and partner resourcing. Convoy of Hope has a long history as a first responder in times of natural disasters and has been a Four Star Charity as recognized by Charity Navigator for nine consecutive years. For additional information on Convoy of Hope, please visit http://www.convoyofhope.org.
Convoy of Hope:
Jeff Roman, 417-942-7570 (M)
Public Relations Desk
jroman(at)convoyofhope(dot)org
or
Jeff Nene, 417-860-2196 (M)
National Spokesperson
jnene(at)convoyofhope(dot)org
The Convoy Long Island:
Rob Taormina, 516-902-9791 (M)
robtaormina(at)gmail(dot)com