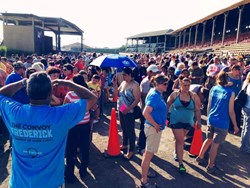 Memphis, TN (PRWEB) September 03, 2013
Convoy of Hope will partner with local businesses, churches and nonprofits to bring a Community Celebration to the MidSouth on Saturday, Sept. 7, at Memphis Cook Convention Center. During the celebration, Convoy of Hope and the MidSouth community will provide more than $1 million in free goods and services including food, clothing, job counseling, dental check-ups, haircuts, family portraits, a kids carnival and more.
More than 70,000 guests of honor have attended the $50 million tour of hope at stops around the country this year.
Learn more about the outreach by visiting http://www.midsouth.convoyofhope.org or contact Cheryl Bone at 901-626-2092 or Rev. Panisha Stigger at 901-491-9045.
"There is a great opportunity in Memphis to bring the community together," says Hal Donaldson, president of Convoy of Hope. "We'll be there to help neighbors help neighbors."
Convoy of Hope is also working with the National Breast Cancer Foundation (NBCF) and Plum Organics at the outreach. NBCF will provide education, support and early detection services to underserved women in the community. Plum Organics will provide guests with their organic baby, toddler and child food products. In addition, national partner, Points of Light and Volunteer Mid-South, its HandsOn Network affiliate, will be providing disaster preparedness education and opportunities for the guests to serve through the HandsOn Network volunteer programs.
About Convoy of Hope
Convoy of Hope, a faith-based organization founded in 1994, has a driving passion to feed the world through community outreaches, children's feeding initiatives, disaster response and partner resourcing. Convoy of Hope has a long history as a first responder in times of natural disasters and has been a Four Star Charity as recognized by Charity Navigator for nine consecutive years. For more information on Convoy of Hope please visit http://www.convoyofhope.org.