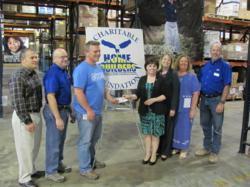 "We know how much further Convoy of Hope can make a dollar go," said Debi Murray, the HBA Charitable Foundation's president
Springfield, Missouri (PRWEB) June 25, 2013
International humanitarian relief organization Convoy of Hope received $57,500 from the Home Builders Association of Greater Springfield Charitable Foundation. The money will go toward the organization's work in Moore, Okla., after the area was struck by an EF-5 tornado last month.
"We know how much further Convoy of Hope can make a dollar go," said Debi Murray, the HBA Charitable Foundation's president. "We felt like we needed to help and wanted to help."
Convoy of Hope responded immediately to the tornado with disaster response teams and food, water and emergency supplies. With an ongoing presence in the area, Convoy is now helping residents recover from the disaster.
"It's always nice to receive support from local businesses and individuals," said Hal Donaldson, president of Convoy of Hope. "We've made great strides in Moore, which are only made easier by the HBA Charitable Foundation's generosity."
About Convoy of Hope
Convoy of Hope, founded in 1994, has a long history as a first responder in times of natural disasters and has been a Four Star Charity as recognized by Charity Navigator for nine consecutive years. Convoy of Hope, a faith-based organization, has a driving passion to feed the world through children's feeding initiatives, community outreaches, disaster response and partner resourcing. Additional information about Convoy of Hope can be found by visiting http://www.convoyofhope.org.
About Home Builders Association of Greater Springfield
The Home Builders Association of Greater Springfield is a professional trade organization dedicated to protecting and promoting housing in a 10-county area (Greene, Christian, Webster, Dallas, Polk, Dade, Lawrence, Barry, Stone and Taney) in southwest Missouri. The Association's Charitable Foundation was founded in 1990 and strives to promote and provide outreach related to the building trades.
Convoy of Hope Contacts:
Jeff Roman, 417-942-7570 (M)
Public Relations Desk
jroman(at)convoyofhope(dot)org
or
Jeff Nene, 417-860-2196 (M)
National Spokesperson
jnene(at)convoyofhope(dot)org