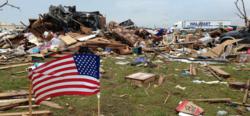 "Walmart has been a strong supporter, especially in times of disaster," says Hal Donaldson, president of Convoy of Hope.
Springfield, Missouri (PRWEB) June 04, 2013
Convoy of Hope is bringing disaster relief supplies to tornado survivors in Moore, Okla., with donations provided by Walmart. Walmart donated and shipped two tractor-trailer loads of supplies to Moore, including protective masks and food items such as canned tuna, crackers, granola bars, breakfast bars, fruit cups, canned chicken and Vienna sausages.
"Walmart has been a strong supporter, especially in times of disaster," says Hal Donaldson, president of Convoy of Hope. "The company understands the immediate need people face when they've lost everything, and we truly appreciate its steadfast support for our efforts and the well-being of others."
Last fall, Walmart contributed the equivalent of three and a half tractor-trailer loads of relief supplies to Convoy of Hope's disaster response efforts after Hurricane Sandy caused destruction in New York and New Jersey.
"We are proud to support Convoy of Hope in its efforts to bring relief supplies to Oklahoma," said Lee Siler, Senior Manager of Disaster Relief for Walmart. "Many of our associates and customers were affected by this devastating storm, and we want to help ensure they have the supplies they need to begin rebuilding their lives."
Convoy of Hope plans to have a continued presence in Moore to assist in the city's recovery and rebuilding efforts.
About Convoy of Hope
Convoy of Hope, founded in 1994, has a long history as a first responder in times of natural disasters and has been a Four Star Charity as recognized by Charity Navigator for nine consecutive years. Convoy of Hope, a faith-based organization, has a driving passion to feed the world through children's feeding initiatives, community outreaches, disaster response and partner resourcing. Additional information about Convoy of Hope at http://www.convoyofhope.org.
About Walmart
Wal-Mart Stores, Inc. helps people around the world save money and live better – anytime and anywhere – in retail stores, online, and through their mobile devices. Each week, more than 245 million customers and members visit our more than 10,800 stores under 69 banners in 27 countries and e-commerce websites in 10 countries. With fiscal year 2013 sales of approximately $466 billion, Walmart employs more than 2.2 million associates worldwide. Walmart continues to be a leader in sustainability, corporate philanthropy and employment opportunity. Additional information about Walmart can be found by visiting corporate.walmart.com, on Facebook at facebook.com/walmart and on Twitter at twitter.com/walmartnewsroom. Online merchandise sales are available at http://www.walmart.com and http://www.samsclub.com.
Convoy of Hope Contacts:
Jeff Roman, 417-942-7570 (M)
Public Relations Desk
jroman(at)convoyofhope(dot)org
or
Jeff Nene, 417-860-2196 (M)
National Spokesperson
jnene(at)convoyofhope(dot)org