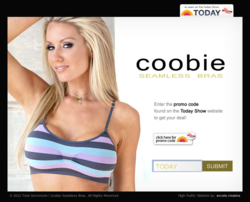 We were very happy with the results and with the server that managed to handle a promotion of that caliber
Los Angeles, CA (PRWEB) May 24, 2012
Celebrated bra brand Coobie Seamless Bra's micro e-Commerce site created by Excela Creative (http://www.excelacreative.com), the leading expert of high-traffic server sites for over 100 lifestyle brands, reached sold-out status within six hours of the sale site going live, a record result for the web company and the bra brand, on TODAY Show's "Jill's Steals and Deals" April 10 segment.
"Many brands typically keep the microsites live for at least a week as sales continue to filter in through the first weekend," said Michael Henderson, creative liaison of Excela Creative. "A majority of the sales are projected to happen within the first hour of the site going live and the platform needs to be able handle the influx of traffic and sales."
The brand embarked on the deal segment as a way to build brand awareness and promote its colorful bras for the spring and summer seasons. Since the show's followers expect good products and trust the show to purchase the offerings, Coobie Seamless Bra thought it would be a great platform to market its products.
"The [TODAY Show] experience was amazing," said Adam Slater, distributor of Coobie Seamless Bra. "We were very happy with the results and with the server that managed to handle a promotion of that caliber. The execution was very good and the team performed very well."
Jewelry brand Gala by Daniela Swaebe was also an April 10th feature on "Jill's Steals and Deals" using Excela Creative's high-traffic website.
ABOUT COOBIE SEAMLESS BRA
Coobie Seamless Bra is the new innovative seamless, no wire bra. Known for its philosophy that the bra should essentially be comfortable, Coobie Seamless Bra removes wires, clasps, hooks for a seamless, stretchy bra that can be worn under low-cut tops with ease. It currently retails at various women's boutiques nationwide and via e-Commerce. For more information, please visit http://www.shopcoobie.com
ABOUT EXCELA CREATIVE
With more than 100 high-traffic websites designed, Excela Creative has become the leading choice for brands featured on "Jill's Steals and Deals." A division of Excela, For Everything Business, the company specializes in after-sale online marketing services including email marketing, social media marketing, web design, digital PR and more. For more information, please visit http://www.excelacreative.com
###