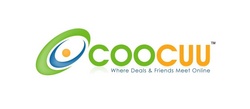 Its YouTube-meets-Facebook type of experience presents businesses with new ways to effectively entice and inform potential customers.
SANTA CLARA, Calif. (PRWEB) June 2, 2008
Businesses benefit by having their promotions placed in a searchable directory, connecting them with users looking for a specific one-stop shop for promotional offers and coupons. With Coocuu, promotions can be more media-rich and engaging than standard pay-per-click advertising at a potentially far lower cost. These benefits and other features are available with a new merchant account that features a 60-day free trial.
"Coocuu represents the next step in online advertising by combining targeted advertising and social networking into a single site that draws traffic by offering access to numerous promotions, coupons, and discounts," says Tony Tang, CEO of Coocuu. "Its YouTube-meets-Facebook type of experience presents businesses with new ways to effectively entice and inform potential customers."
Coocuu's social network-based user experience also gives businesses market penetration through simple word-of-mouth and viral marketing. Coocuu users can refer and rate promotions, providing a true interactive and community-based experience that organically exposes promotions to new people.
Coocuu's launch coincides with a surge in the online advertising market and the rate of online coupon usage. These trends indicate that both users and advertisers are focusing more and more on their online presence for their needs. Coocuu meets the demands of users and businesses while generating traffic that benefits both sides.
"The online video advertising market is $1 billion and growing. Online coupon usage is also growing," says Tang. "We've recognized a large market need to simplify how businesses distribute online video promotions. We've also recognized user trends that show the need for a hub and community for quality promotions, coupons, and discounts. Coocuu brings these two aspects together into an accessible Web 2.0 experience."
Coocuu's beta launch offers solutions for both local and global promotions. Businesses can upload video and graphic promotions across a variety of popular formats in a real-time platform that allows for easy updating and management based on user feedback. Promotions can also be targeted to specific geographic areas to maximize exposure to key locations and demographics. Coocuu can also be used for new product information and multimedia announcements.
With its beta launch, Coocuu is now available for businesses nationwide to use. Upon registering, promotional campaigns can be posted online within minutes. Businesses can sign up for a 60-day free trial by visiting http://www.coocuu.com and registering for a new merchant account.
About Coocuu
Based in Silicon Valley, Coocuu is an online platform that provides media-rich business promotional and advertising capabilities while giving users a hub for exclusive offers and discounts in a social networking-based community. To learn more, visit http://www.coocuu.com.