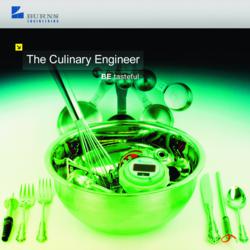 Who knew? Temperature measurement experts AND Culinary Engineers!
Minnetonka, MN (PRWEB) April 26, 2012
Burns Engineering has released their 2012 Cook Book. The book is a reflection of their passions and expertise beyond their daily business of temperature measurement. A collection of personal and family favorites from the team at Burns, the book contains appetizers, main dishes, sides, desserts, and new for 2012 – Soups & Stews. This cook book is packed with over 100 recipes from Pepper Spray Popcorn to Bramble Pie. The electronic "flip-style" cook book is free and can be easily accessed on-line and downloaded at http://www.burnsengineering.com/cookbook.
The Burns 2012 Cook Book is the second edition. Originally offered as a "Thank You" and holiday gift to their customers and business partners; it is now available to all. Share the link with family and friends, and enjoy! Look for the 2012 icon on the recipes for the latest additions.
ABOUT BURNS ENGINEERING:
Since 1960, Burns Engineering has been an industry leader in the design and manufacture of temperature measurement products for the Process, OEM and Metrology industries. Products include RTDs, Secondary SPRTs, Thermocouples, Thermowells, Transmitters and NVLAP® Accredited Calibrations (Lab Code 200706-0). Learn more about Burns Engineering at http://www.burnsengineering.com or contact directly at 800-328-3871