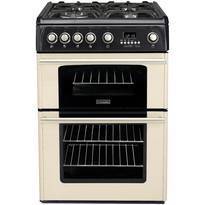 This is certainly a landmark for both parties. For us, it reaffirms our status as a retailer with one of the largest ranges available and with some of the most esteemed manufacturers as well. The Bertazzoni reputation stands up for itself and provides a really good indicator of our credentials
Hull, England (PRWEB) January 17, 2009
Kitchen Science is pleased to announce that it has struck up a relationship with Italian range cooker experts La Germania. Since December 2008, La Germania's superb range of professional range cookers has featured on the Kitchen Science Website.
La Germania range cookers, produced by the famous Bertazzoni family from the town of Guastalla. This town lies in one of the most renowned culinary regions of Italy, Emilia-Romagna, famous for its pork butchers, delicious pastas and balsamic vinegar. The heritage that the manufacturer has places its products at the pinnacle of its industry.
The partnership with Kitchen Science marks a new venture and way of trading for La Germania. It becomes the first online only pure player retailer to sell the prestigious brand, where you would normally find in kitchen studios and showrooms. Kitchen Science's Trading Manager, Jonathan Yardley, said, "This is certainly a landmark for both parties. For us, it reaffirms our status as a retailer with one of the largest ranges available and with some of the most esteemed manufacturers as well. The Bertazzoni reputation stands up for itself and provides a really good indicator of our credentials".
The venture also says a lot for the manufacturer. Yardley explained, "By choosing to sell through Kitchen Science, it shows La Germania's prudence and desire to gain a solid foot hold in the online market. With more and more people turning to the Internet for shopping and research, it will open up a massive opportunity for them".
La Germania's selection of range cookers can be found on Kitchen Science. This also includes their new Americana range cookers and will be the perfect addition to any kitchen.
RESOURCES:
Kitchen Science is the UK's largest online only kitchen appliances retailer selling Kitchen Appliances including the American Fridge, Cannon Cookers, Electric Cookers, Integrated Dishwasher, Washing Machines, American Fridge Freezers and the Integrated Fridge Freezer.
###