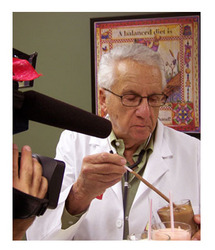 Since 1975, Dr. Siegal's® COOKIE DIET™ has helped more than a half million people lose weight without hunger. Given the countless fad diets that have come and gone, our longevity and patient success rate sets us apart and frequently attracts the attention of the news media
Miami, FL (PRWEB) October 11, 2007
Prominent physician, author and weight loss expert Sanford Siegal, D.O., M.D., creator of the Dr. Siegal's® COOKIE DIET™ weight loss system and hunger-controlling diet cookies, shakes and soup, will appear live tonight at 9pm on It's Your Call with Lynn Doyle, Comcast CN8's one-hour Emmy® award-winning, issues-oriented talk show. Appearing with Dr. Siegal by phone will be two of his patients, a married couple who collectively have lost more than 80 pounds as patients of Siegal Medical Group in Miami, Florida. Viewers will be encouraged to participate in the live discussion via email.
"Since 1975, Dr. Siegal's® COOKIE DIET™ has helped more than a half million people lose weight without hunger. Given the countless fad diets that have come and gone, our longevity and patient success rate sets us apart and frequently attracts the attention of the news media," said Dr. Siegal, who has been profiled by myriad media outlets including ABC's Good Morning America, Fox News Channel, CNN and Health magazine.
Dr. Siegal created the Dr. Siegal's® COOKIE DIET™ and its meal replacement foods in 1975 in order to control his patients' hunger and thus enable them to follow a reduced-calorie diet. The Dr. Siegal's® COOKIE DIET™ brand diet cookies, shakes and soup contain the Miami doctor's secret blend of hunger-suppressing amino acid food proteins. The products are made in Dr. Siegal's own bakery near his medical offices. To this day, Dr. Siegal mixes every batch of his proprietary protein formula with his own hands.
For most of their 32 year history, Dr. Siegal's COOKIE DIET™ brand foods were available only to his own patients and those of about 200 other doctors to whom he supplied them. From 2002 to mid-2006, he allowed a franchisee to open diet centers bearing his name and utilizing his methods and products. The relationship ended in August 2006 and Dr. Siegal's products are no longer offered at any of his former franchisee's weight management centers. In May 2007, he began offering his products online at http://www.CookieDietOnline.com and by phone at 866-464-5595. Most recently he opened the first Dr. Siegal's® COOKIE DIET™ retail outlet at Moorestown Mall in South Jersey. This Saturday, October 13th, from 1 to 3pm, he'll attend the grand opening of his second one at the famous King of Prussia Plaza mall near Philadelphia. More locations will be announced in the near future.
###