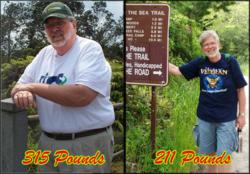 'I just completed a 30 mile hike with my son. A year ago, I wouldn't have dreamed of attempting such a thing,' said Jim Smith. 'I can't even remember the last time I had this kind of energy and stamina.'
Flint, MI (PRWEB) June 06, 2011
Jim Smith, a 63-year old retired newspaper reporter in Lapeer, Michigan, is the latest Dr. Siegal's Cookie Diet success story to share his experience with the world. In a live interview last Friday on ABC-TV Channel 12 in nearby Flint, Jim discussed how his 12-month journey from 315 to 211 pounds has changed his life.
Before and after photos, and a video of the TV interview, are at http://tinyurl.com/cookie-diet-testimonials.
Dr. Siegal's Cookie Diet was created in 1975 by celebrity weight-loss expert and author Sanford Siegal, D.O., M.D., and has been used by more than 500,000 dieters. Hundreds of physicians throughout North America have used it in their own practices. Dr. Siegal's program has achieved international fame in recent years due to its popularity among Hollywood entertainers.
The Dr. Siegal's Cookie Diet store in Beverly Hills is a magnet for celebrities and paparazzi and has been featured on national TV shows including Entertainment Tonight and True Hollywood Stories.
During the weight-loss phase of Dr. Siegal's Cookie Diet, dieters follow a reduced-calorie diet of 1,000 to 1,200 calories while controlling their hunger with Dr. Siegal's specially formulated cookies. Moderate exercise is encouraged during the weight-losing phase. For lifetime weight maintenance, Dr. Siegal, an avid tennis player and skier, is a proponent of vigorous aerobic exercise.
According to Dr. Siegal, people who lose a lot of weight frequently undertake physical activities that they couldn't enjoy when they were overweight.
"I just completed a 30 mile hike with my son. A year ago, I wouldn't have dreamed of attempting such a thing," said Jim Smith. "I can't even remember the last time I had this kind of energy and stamina."
Dr. Siegal says that Smith's experience is similar to those of his own patients.
"I'm thrilled but not surprised to hear that Jim is hiking and working out with a trainer after losing so much weight. Over the years, I've observed in thousands of my own patients that reaching a healthful weight motivates them to once again enjoy their bodies and the pleasure that comes from physical activity," said Dr. Siegal. "If you want to appreciate how debilitating it is to be 100 pounds overweight, try carrying a 100 pound barbell around with you for a day. That's what Jim did for years."
When Dr. Siegal learned that Jim was going to have his achievement celebrated on TV, he called to congratulate him.
"To say I was surprised to get a call from Dr. Siegal would be an understatement," said Smith. "He was walking down a noisy street in Paris but called on his cell phone to congratulate me on my weight loss and wish me luck on my TV interview."
Dr. Siegal recently completed the first major overhaul of Dr. Siegal's Cookie Diet in its 36-year history. In modifying his approach to weight loss, Dr. Siegal has significantly improved his protein cookies and created a new eating plan, Plan 10X, that's intended to stop diet-wrecking hunger in its tracks. Dr. Siegal's new cookies are all-natural with no artificial flavors, sweeteners, colors, or preservatives. They're certified Kosher by OU, too, and are suitable for vegetarian diets. Initial flavors include Chocolate Brownie, Cinnamon Oatmeal, and Maple Granola.
ABOUT SANFORD SIEGAL, D.O., M.D.
Sanford Siegal, D.O., M.D., is a practicing physician whose South Florida medical practice, Siegal Medical Group, has treated more than 500,000 overweight patients. Although he has achieved notoriety for his books on subjects including high fiber diets, hunger control without drugs, and hypothyroidism, he is best known as the Cookie Doctor® behind the popular Dr. Siegal's COOKIE DIET® weight-loss program and hunger-controlling foods.
Dr. Siegal has been profiled by dozens of major media outlets including The New York Times, The Wall Street Journal, Good Morning America, and Today Show. In January 2009 and January 2011, Dr. Siegal's COOKIE DIET® success stories were featured in People magazine cover articles.
Dr. Siegal's COOKIE DIET®, Dr. Siegal's Plan 10X™, and Cookie Doctor® are trademarks of SM Licensing Corp.
Media Inquiries:
Media Relations
Dr. Siegal's Consumer Brands
703-917-6149 Ext. 1007
http://www.CookieDiet.com
Broadcast quality B roll and hi-resolution photos are available to the media
###