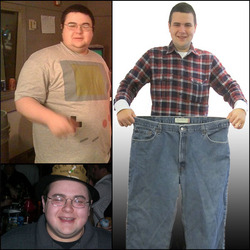 When Dr. Shapiro told me I was going to lose weight by eating cookies I thought he was crazy, but then I Googled Dr. Siegal's Cookie Diet and found out that it was a serious weight-loss plan...
New York, NY (PRWEB) March 30, 2011
An important feature of one of the biggest radio shows in the nation's biggest media market has become a lot smaller in the past six months: its producer and frequent on-air personality, Jonathan "Coop" Cooper. The program's legions of loyal listeners have known for years that Coop has had a serious weight problem. In the past, Coop's love of food was actually an important aspect of his on-air personality.
But now, Coop has something new to talk about. Recently, he stepped on the scale in the Manhattan office of his physician, weight-loss expert Dr. Howard Shapiro, a stunning 100 pounds lighter than he was just six months ago.
"When Dr. Shapiro told me I was going to lose weight by eating cookies I thought he was crazy, but then I Googled Dr. Siegal's Cookie Diet and found out that it was a serious weight-loss plan," said Cooper. "I'm a very busy guy and I don't have a lot of free time. The convenience of the cookies and the way they control hunger made them the perfect solution for me."
The weight-loss plan that Dr. Shapiro chose for Coop was Dr. Siegal's Cookie Diet, a popular regimen created in 1975 by fellow obesity expert Dr. Sanford Siegal. Under Dr. Siegal's approach, one adheres to a 1,000 to 1,200 calorie diet that consists of six specially-formulated cookies--eaten during the day to control hunger--and a sensible dinner. The cookies contain a proprietary mixture of amino acids that Dr. Siegal personally mixes in his private bakery near his Miami medical practice.
Two other Dr. Siegal's Cookie Diet success stories are were recently featured in this year's People magazine Half Their Size issue. Links to the article and dozens of other print and broadcast news reports are at http://www.CookieDiet.com/news.
"I chose Dr. Siegal's Cookie Diet for Coop based on my experience treating other celebrities," said Dr. Shapiro. "Given their hectic schedules and demanding social obligations, celebrities lose weight successfully when the diet is convenient and simple and the results come fast."
According to Jonathan Cooper, he feels and looks better than he has in years, and his fans have taken notice.
"I can't even guess how many listeners my success has motivated to get control of their own health," said Cooper. "The emails and phone calls just keep coming."
ABOUT DR. HOWARD SHAPIRO
Dr. Howard Shapiro is founder and director of Howard M. Shapiro Medical Associates, a private multidisciplinary medical office in New York City that specializes in weight control and life management. His practice, started in 1978, includes nutritionists, psychologists, and exercise instructors. Among his patients are many leaders in business, the arts, entertainment, and politics. Dr. Shapiro's latest book is Eat & Beat Diabetes with Picture Perfect Weight Loss (2010, Harlequin, ISBN 978-0373892181). Dr. Shapiro received national attention by helping men and women in the New York City police force slim down with Food Awareness Training.
ABOUT DR. SANFORD SIEGAL
Sanford Siegal, D.O., M.D., is a practicing physician and obesity expert based in Miami who has achieved notoriety for books on topics such as high fiber diets, controlling hunger without drugs, and hypothyroidism. But he's best known as "The Cookie Doctor" behind the popular Dr. Siegal's Cookie Diet weight-loss system. Dr. Siegal has just published a new book called The Cookie Doctor Cookbook: Countless Combinations of Delicious Meals for Any Calorie-Controlled Lifestyle (2011, Egg & Dart/Dynamic Housewares, ISBN 978-0-9841887-6-5).
###