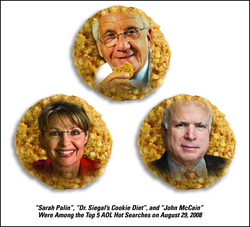 Dr. Siegal's Cookie Diet
McLean, VA (PRWEB) September 8, 2008
CookieDiet.com, the exclusive online and retail distributor of Dr. Siegal's COOKIE DIET® hunger-controlling foods, today announced that on Friday, August 29th, the day on which John McCain named Sarah Palin his running mate, "Dr. Siegal's Cookie Diet" was the second most popular search on the AOL search engine. "Sarah Palin" was the top search and "John McCain" was fifth. The complete Top 10 list is published on About.com.
"Being the second most popular search of the day on AOL shows that Dr. Siegal's COOKIE DIET® has hit critical mass," said CookieDiet.com President and CEO Matthew Siegal. "What's particularly gratifying is that the term searched was 'Dr. Siegal's Cookie Diet' and not just 'cookie diet'," Siegal added. "It shows that people are discerning enough to weed out the knockoffs and find the real McCoy."
Dr. Siegal is frequently in the news. Recently, he recorded a segment of the Fox News program Health Talk with Dr. Manny. A video clip is posted on FoxNews.com at http://tinyurl.com/62ftkm.
"A combination of word-of-mouth publicity and steady media attention has fueled our rapid growth. Only two weeks ago, we announced the registration of our 50,000th CookieDiet.com user. We're now at 57,000 users," added Siegal.
Dr. Siegal's COOKIE DIET®, the original cookie-based weight loss system, was created in 1975 by the Cookie Doctor™, renowned physician, author, and weight loss expert Sanford Siegal, D.O., M.D., in order to control his patients' hunger and enable them to faithfully adhere to the 800 calorie-a-day diet that he prescribes them in his South Florida medical practice, Siegal Medical Group (http://www.DrSiegal.com). Since 1975, more than 500,000 of Dr. Siegal's own patients, and those of 200 other physicians he has supplied, have lost weight with the help of his hunger-controlling foods.
The hunger-suppressing quality of Dr. Siegal's cookies, shake mixes, and soup comes from his proprietary mixture of amino acids and the process he uses to make it. For thirty-three years, Dr. Siegal has personally mixed every batch of his secret protein formula with his own hands in his private bakery near his Miami medical clinic. The formula is known only to Dr. Siegal and his wife who often joins him in his bakery for the three to four hour formula-mixing sessions.
For nearly all of its thirty-three year history, Dr. Siegal's COOKIE DIET® was available only to Dr. Siegal's patients and those of other physicians. In May 2007, however, Dr. Siegal and his son, Matt, a former dot com entrepreneur who co-founded two companies that comprise NASDAQ-listed software company Vocus, Inc., formed Dr. Siegal's Direct Nutritionals, LLC and took the doctor's famous cookies to the general public via http://www.CookieDiet.com, drugs stores and spas, and its own retail outlets. The company now operates eight locations in Arizona, Florida, Virginia, and New Jersey. A ninth location will open soon in Beverly Hills, two blocks from Rodeo Drive.
###