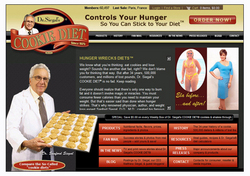 Those who go on weight loss diets without doctor supervision cheat themselves.
McLean, VA (PRWEB) December 26, 2008
Dr. Siegal's Direct Nutritionals, LLC, the exclusive worldwide distributor of the 34 year old Dr. Siegal's COOKIE DIET® brand weight loss system and hunger-busting diet cookies and diet shake mixes, today announced that it has launched a completely redesigned version of its web site with many new features and the shorter domain name CookieDiet.com. Since its launch in May 2007 the official Dr. Siegal's COOKIE DIET® web site address had been CookieDietOnline.com. The 60,000-plus users of the previous web site can log into the new one using their existing user name and password.
"While imitators have sprung up offering knockoff products, the world knows that Dr. Siegal's Cookie Diet is the original, the real McCoy. CookieDiet.com is therefore the ideal choice of names for the exclusive online source of the genuine Dr. Siegal's Cookie Diet products which have helped more than 500,000 people since 1975," said Matthew Siegal, President and CEO of Dr. Siegal's Direct Nutritionals, LLC.
Among the features debuting on CookieDiet.com is a Resources section that includes Dr. Siegal's® Weight Loss Calculators, a new proprietary software suite personally designed by Dr. Sanford Siegal. The calculators remove the uncertainty inherent in most diets by helping the user set and reach a realistic goal weight by a specific date. Dr. Siegal's Weight Loss Calculators are intended to be helpful to any dieter regardless of the particular diet they follow.
"So many of my patients come to me with a specific goal in mind and it usually has to do with looking good for an upcoming event like a wedding, cruise, or reunion," said Dr. Siegal. "So I developed weight loss calculators that use my proprietary algorithms to estimate--based on the dieter's own calorie burn rate--how many calories she would have to consume each day in order to reach her desired weight by the date of her big occasion."
Dr. Siegal added that his calculators contain safeguards to ensure that they don't return unrealistic or unhealthy results.
"The last thing an overweight person needs is another diet failure. If your goal is unrealistic my calculators will tell you so," added Dr. Siegal.
Other features of the Resources section include a step-by-step overview of a 1,000 daily calorie version the Dr. Siegal's COOKIE DIET® Weight Loss Program; recipes for dinners that are compatible with the program; and general nutritional guidelines.
CookieDiet.com also offers an enhanced version of the company's online customer rewards program which gives discounts to customers who refer new ones. A major enhancement now rewards the referring friend with a $10 discount code every time a referred friend places an order on CookieDiet.com. For example, if a customer refers ten friends who each order once a month, that customer will receive discounts of $100 per month.
Dr. Siegal's COOKIE DIET® was developed more than 30 years ago by renowned physician, author and weight loss expert Sanford Siegal, D.O., M.D., known to generations as the Cookie Doctor™, to control his patients' hunger and help them stick to the low calorie diet he favors. It features cookies, shake mixes, and soup that contain his proprietary amino acid mixture that results from the blending of various protein food substances.
Dr. Siegal conceived the idea of a cookie-based diet in the early 1970's while researching his book on natural food substances that control hunger without drugs. In 1975, after several years of experimentation, he perfected his secret protein formula and baked it into a cookie. Acceptance by his patients was immediate and soon Dr. Siegal's COOKIE DIET® was the exclusive approach to weight loss at Siegal Medical Group, Dr. Siegal's South Florida medical practice. Dr. Siegal personally mixes every batch of his secret protein blend with his own hands in his private bakery in Miami. More than 200 other doctors have used the products in their own practices.
For the general public Dr. Siegal advocates a diet of about 1,000 calories per day provided that the dieter is monitored by his or her doctor. On 1,000 calories a day, he says, the typical adult loses ten pounds or more per month. Based on his own experience with more than a half million patients he insists that medically-supervised low calorie diets are safe and that results are better.
"I'm convinced that those who diet under medical supervision have better success rates," said Dr. Siegal. "Those who go on weight loss diets without doctor supervision cheat themselves."
Dr. Siegal's COOKIE DIET® hunger-controlling foods and nutritional supplements are available online at http://www.CookieDiet.com; by phone 24/7 at 877-377-4342 toll-free; and from select doctors, drug stores and retailers. They're also available at company-owned kiosks in Paradise Valley Mall and Chandler Fashion Center in Phoenix, AZ; Town Center Mall in Boca Raton, FL; Dadeland Mall in Miami, FL; The Galleria Mall in Ft. Lauderdale, FL; Tysons Corner Center near Washington, DC; and Cherry Hill Mall in the Philadelphia suburb of Cherry Hill, NJ. A Dr. Siegal's COOKIE DIET® store will open in Beverly Hills on January 15, 2009.
MEDIA CONTACT:
Media Relations
Dr. Siegal's COOKIE DIET®
CookieDiet.com
1-877-377-4342
# # #