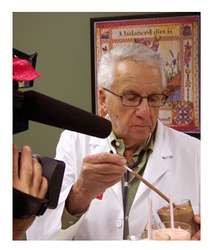 We would save a great deal of money by farming out the production of our products to a large commercial baking facility but we have no intention of doing so
Miami, FL (PRWEB) March 7, 2008
Dr. Siegal's Direct Nutritionals, LLC, the global distributor of the ever-popular Dr. Siegal's® COOKIE DIET™ weight loss system and hunger-controlling foods, today announced that Sanford Siegal, D.O., M.D., has completed construction of a new private bakery where he'll continue to oversee the production of his namesake products as he has done since 1975. Like his original bakery, his new facility is located near the Miami clinic of Dr. Siegal's medical practice, Siegal Medical Group. According to Dr. Siegal, his cavernous new bakery has nearly ten times the manufacturing capacity of his original one.
"We would save a great deal of money by farming out the production of our products to a large commercial baking facility but we have no intention of doing so," said Dr. Siegal. "Dr. Siegal's® COOKIE DIET™ foods control hunger so well because of the proprietary amino acid protein blend that I still personally make by hand. My formula is a secret known only to me and one other person and I would never provide it to some industrial cookie factory."
For most of its 33 year history, Dr. Siegal's® COOKIE DIET™ was limited to his own patients and those of about 200 other doctors he supplied. From 2002 to August 2006, he allowed a company to open franchised weight management centers that used his name, six-cookies-a-day weight loss system, and hunger controlling cookies, shakes and soup. The company opened centers in various states including Florida, Massachusetts, New Jersey and California. The relationship ended in August 2006 and Dr. Siegal no longer supplies his products to any of his former franchisee's centers.
In May 2007, Dr. Siegal made his products available to the general public on the CookieDietOnline.com web site. In August he opened the first of six non-medical Dr. Siegal's® COOKIE DIET™ kiosks at shopping malls in Florida, Arizona and New Jersey. A seventh location opens on March 17th at Scottsdale Fashion Square in Phoenix.
"What distinguishes Dr. Siegal's® COOKIE DIET™ from the knockoffs that have popped up recently is that there's real substance and science behind it. The secret protein blend to which the cookies, shakes and soup owe their hunger-suppressing quality was personally developed by Dr. Siegal after years of trial and error," said Matthew Siegal, President and CEO of Dr. Siegal's Direct Nutritionals, LLC. "While others may try to ride our wave by copying our name and messaging, only Dr. Siegal's® COOKIE DIET™ has the original formula and a 33 year track record with more than 500,000 people."
Dr. Siegal and his original cookie-based diet are frequently profiled in the media. Last week, Dr. Siegal and a patient who lost more than 70 lbs. were featured on the evening news on WCBS-TV in New York City.
Dr. Siegal's® COOKIE DIET™ hunger-controlling foods and nutritional supplements are available online at http://www.CookieDietOnline.com; by phone 24/7 at 866-464-5595 toll-free; and from select doctors, drug stores and retailers. They're also available at Dr. Siegal's® COOKIE DIET™ kiosks in Paradise Valley Mall and Chandler Fashion Center in Phoenix, AZ; Boca Raton Town Center Mall in Boca Raton, FL; Dadeland Mall in Miami, FL; and Moorestown Mall near the Philadelphia suburb of Cherry Hill, NJ.
# # #