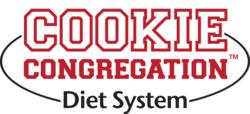 Friedman said many participants have had their hypertension medication, diabetes medication or cholesterol medication either reduced or rendered no longer necessary as a result of the program.
Baltimore, MD (PRWEB) May 22, 2011
One local congregation is singing the sweetest hallelujahs around, having collectively lost thousands of pounds after just one year of participation in the Cookie Congregation™ Diet System. Mount Pleasant Church and Ministries recently celebrated its first anniversary in partnership with the weight-loss program, which uniquely combines the power of prayer with nutritionally balanced cookies.
"With our president and first lady discussing initiatives to combat obesity, we've found that in minority communities, church-oriented spirituality has a lot to do with weight loss," said Cookie Congregation™ Co-Founder Neil Friedman. "People rely on faith to help them lose weight."
Mount Pleasant Youth Pastor John Shearin is now a believer in more ways than one, having lost 166 pounds, dramatically improving his quality of life. "There has not been an activity I have attempted since my weight loss that I cannot do," he said. "I feel strong, look younger, remain active, sleep better and shop for clothing anywhere I please!"
The Cookie Congregation™ was launched three years ago, when Friedman partnered with the Rev. Clyde Oden Jr., pastor at the O.D. Bryant Temple A.M.E. Church in Southern California. The success has lead to a groundswell of Internet orders for the cookies, as happy participants share their success stories with friends, family and, through online testimonials, the world.
"So far, we've partnered with eight ministries throughout the country and that number is growing," Friedman said. "By creating a plan that incorporates four important wellness elements — spirituality, education, exercise and diet — Dr. Oden and I wanted to make a change in the community, and thanks to the popularity of our website, we can expand our reach even more."
Combating Obesity with Cookies
"The daily eating of the cookies or their equivalent are viewed as using small meals to manage hunger and avoid the panic and binging that come with it," Friedman said. The cookies come in oatmeal-raisin, lemon and chocolate-chip flavors and are a good source of protein and fiber. They contain no trans fats, cholesterol or aspartame.
"The cookies taste great! They definitely satisfy my hunger pangs," Shearin said. For his enthusiasm and his amazing weight loss, he is known as "The Cookie Police" throughout the ministry. "I show up everywhere, and if I catch you even looking like you want to cheat, I will pull you over!" he laughed, then added that the program has drawn him closer to God. "I have learned to discipline my eating habits and other areas of my life. God is so faithful, and there is nothing he won't help me with. My church has a new youth pastor; same guy, new vitality!"
Assistant Pastor Darryl Brace, 90 pounds lighter than one year ago, said that before he began the regimen, he had convinced himself he was destined to be fat.
"I was 'fat and happy' at that time, but was persuaded by my physician to make a lifestyle change. I was not being a good steward of my body, which is God's temple," Brace said. "Since then, my BMI [body mass index has decreased by more than 10 points, and my body fat has decreased by more than 10 points and 75 pounds. I have been continuously encouraged on this journey by family, friends, my church family and my pastor, Bishop Clifford Johnson. To God be the glory!"
Friedman and Oden work in conjunction with nutritionists to educate members on understanding nutrition labels and preparing healthful meals. In addition to weight loss, Friedman said many participants have had their hypertension medication, diabetes medication or cholesterol medication either reduced or rendered no longer necessary as a result of the program.
About Cookie Congregation™:
Since 2008, the Cookie Congregation™ has offered a comprehensive program with an expert team of weight-management professionals to help church members achieve their individual goals. The program takes an educational approach, teaching participants about planning and preparing balanced, healthful meals; dealing effectively with the stresses of weight management; incorporating exercise as part of a daily routine; preventing relapses; and more.
For more info, video testimonials and photos of participants, visit: cookiecongregation.com.
Media Contact
Neil Friedman, Co-Founder of Cookie Congregation™
cookiecongregation.com
neil(at)cookiecongregation(dot)com
203-984-8688
# # #