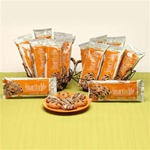 Healthy Cookies for Mother's Day are for Real!
Tampa, FL (PRWEB) May 08, 2012
Many ladies who may still be feeling the weighty effects of the holidays are searching for easy ways to slim down with bathing suit season imminent. Mother's Day is quickly approaching, and the Cookie Diet program packs are a unique gift for those looking to get fit in time for summer. The Smart for Life meal replacement program can also help get them back on the path to good health.
The Smart for Life Cookie Diet program consists of a nutritional cookie replacement plan. Dieters enjoy cookies that are full of flavor during breakfast and lunch. They then eat a sensible dinner. The cookies contain super fibers as well as natural ingredients. These super fibers help curb the appetite as well as help users feel full longer. They also include antioxidants that promote healthy cells. Smart for Life offers chocolate chip, oatmeal raisin, and blueberry cookie flavors. Dieters following the program can choose a cookie supply containing just one of the flavors, or order a supply that includes either the oatmeal or blueberry cookies in addition to the chocolate chip. The cookies speed up the metabolism which can help burn fat even faster when used with an exercise program.
Those trying to lose weight know that boredom usually sets in when they consume the same old salad for lunch and dinner diets. While the plan is called the Cookie Diet, there are other tasty nutritious meal options available. They also contain the ingredients that would be provided by a healthy meal. Breakfast can include Smart for Life cereal in two delicious flavors. Orange-Cranberry muffins are another great tasting option. Coffee lovers will enjoy Zilch the zero calorie coffee cream replacements. While the creamers are offered in plain, Hazelnut and French Vanilla are available for those who enjoy flavored coffee. Those who do not care for coffee can choose delicious hot cocoa instead. Smart for Life hot cocoa even comes with marshmallows. Lunch options, besides the cookies, consist of three appetizing soup varieties; Chicken Noodle, Garden Veggie Noodle, and Tomato. Dieters can order these soups in single flavors, or in a variety pack. The soups are easy to take to work every day. Add water and microwave to enjoy this simple meal. Shakes are always a popular and convenient meal replacement option. Offered in a variety pack consisting of Chocolate, Vanilla, Raspberry Cream, and Orange Creamsicle the ready to drink shakes are excellent for dieters on the go. Shake packs, available in Vanilla or Chocolate, are also offered for those who prefer to mix their own.
Sometimes a snack with a crunch is craved. Smart for Life's Smart Crunch can also satisfy a sweet tooth. This convenient snack comes in a handy pouch to take while on the go. Each pouch can be enjoyed in place of one cookie meal. Dieters will be glad to know they do not have to deprive themselves of a great tasting treat. Other options for those who are having a hard time giving up sweets completely include cupcakes and granola squares. The Smart for Life cupcakes, offered in Chocolate Mountain and Carrot Sunshine, are sold under Smart for Life's ThinAdventure line. Cranberry and Banana Chocolate Chip granola squares are also a healthy snacking option.
The super fibers contained in the Cookie Diet and other meal replacement options help suppress the appetite, but they can also help maintain healthy levels of cholesterol and sugar. Smart for Life products do not contain toxins or preservatives. The items also contain healthy protein and carbohydrate portions. The all natural and 60% organic products do not cost any more than what a normal day's worth of meals would cost. Those who are working generally spend a minimum $10 a day on meals purchased while on break. Some even grab breakfast on the morning commute. The Cookie Diet meal replacement products cost less than what the average person spends a day. Smart for Life discounts will help program participants save even more money. Valuable discounts, deals, and coupons are available at SmartForLifeReviews.com
Smart for Life Variety Packs are a great way to keep the dieting doldrums at bay. Dieters can choose from various packs to ensure they are receiving the healthy options they love. A cereal and soup pack is offered as well as a muffin and bagel pack. Those who enjoy the cupcakes will prefer the cupcake variety pack. Program participants will find that almost all of the products are offered in convenient variety packs. They will also be able to order supplies lasting varying lengths.
Once breakfast and lunch are through, dieters can enjoy a sensible meal at home. Smart for Life offers easy recipe ideas that include proper serving sizes. These meals are appetizing enough for the entire family to enjoy. They include party favorites such as Buffalo Chicken Tenders, and fancier selections such as Sushi. Scrumptious dessert recipes using the program's products are also available for a satisfying treat.
Loved ones should keep in mind that when weight is a concern the last thing the honoree desires is an edible gift. Instead of taking moms who are looking to slim down out to brunch why not surprise her with a Cookie Diet pack? Meal replacement options are convenient to order. The Smart for Life discounts found at SmartForLifeReviews.com will help make the packs an affordable gift. This program presents many ways to help that special lady stay smart for life.