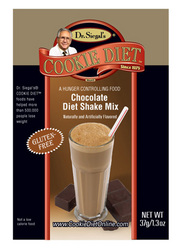 Even though our diet shakes are very popular with Dr. Siegal's patients, we know that the general public associates the Dr. Siegal's® COOKIE DIET™ brand with hunger-controlling weight loss cookies. We weren't expecting demand for the shakes at retail to be as great as the feedback we've received from consumers and resellers suggests
Miami, FL (PRWEB) June 16, 2008
During a live appearance last Friday on the national TV show FOX Business Happy Hour, Dr. Siegal's® COOKIE DIET™ creator Dr. Sanford Siegal and his son Matthew, president and CEO of Dr. Siegal's Direct Nutritionals, LLC, announced that Dr. Siegal's diet shake mixes would go on sale today at CookieDiet.com. Dr. Siegal's shake mixes contain the same secret, hunger-controlling amino acid protein formula that he mixes by hand in his private bakery and bakes into his famous cookies.
Dr. Siegal's® COOKIE DIET™ shake mixes are packaged in Weekly Boxes containing 21 individual shake pouches and cost about $2.65 per shake. Flavors include chocolate, vanilla, strawberry, pina colada and crème brulee. A shake can be prepared in about sixty seconds by mixing the contents of one pouch with water and ice in a blender.
"For many years, my patients in South Florida have found my shakes to be a refreshing alternative to my cookies, especially in summer," said Dr. Siegal. "One shake is equal to two cookies and many people rely on both products for hunger suppression. For example, you might have a shake first thing in the morning and then four cookies throughout the day. When it's really hot out, however, some people prefer three shakes and no cookies."
Although the shake mixes went on sale at CookieDiet.com this morning, it will be about a week before they begin to arrive at Dr. Siegal's® COOKIE DIET™ shopping mall locations and the more than 100 drug stores, spas and medical practices that currently offer Dr. Siegal's cookies. Due to a much higher demand than the company had anticipated, consumers and resellers will initially be limited in the number of boxes they can order at one time. The limits are expected to be lifted within one week.
"Even though our diet shakes are very popular with Dr. Siegal's patients, we know that the general public associates the Dr. Siegal's® COOKIE DIET™ brand with hunger-controlling weight loss cookies. We weren't expecting demand for the shakes at retail to be as great as the feedback we've received from consumers and resellers suggests," said Matthew Siegal. "Within a week we'll have enough product on hand to lift the initial quantity restrictions."
In his own practice, Dr. Siegal's patients eat six cookies during the day to control hunger and then a reasonable dinner at night. One shake can be substituted for two cookies. Most patients who faithfully follow his instructions lose 12 to 15 lbs. per month. Those who are not his patients and buy his products online or in stores are directed to consult their own doctor before starting any kind of reduced-calorie diet. Since 1975, more than 500,000 people have used Dr. Siegal's® COOKIE DIET™ foods to help them stick to their diets.
Dr. Siegal's® COOKIE DIET™ hunger-controlling foods and nutritional supplements are available online at http://www.CookieDiet.com; by phone 24/7 at 866-464-5595 toll-free; and from select doctors, drug stores and other retailers. They're also available at Dr. Siegal's® COOKIE DIET™ kiosks in Paradise Valley Mall, Chandler Fashion Center, and Scottsdale Fashion Square in Phoenix, AZ; Boca Raton Town Center Mall in Boca Raton, FL; Dadeland Mall in Miami, FL; The Galleria Mall in Ft. Lauderdale, FL; and Cherry Hill Mall in the Philadelphia suburb of Cherry Hill, NJ.
###