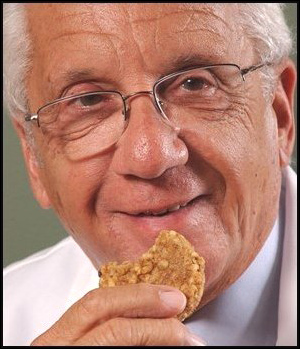 Let's face it--Dr. Siegal's Cookie Diet™ is going to be my legacy
Miami, FL (PRWEB) January 10, 2007
Renowned author and weight-loss expert Dr. Sanford Siegal, best known as the creator of the popular Dr. Siegal's Cookie Diet™, today announced that his proprietary diet, and its associated diet cookies, shakes, soup and other foods, will be available at thousands of U.S. drug stores and from doctors, chiropractors and other health care providers from coast-to-coast beginning on March 15th. Most of the estimated 500,000 overweight people who've used Dr. Siegal's Cookie Diet™ products since he created the weight-loss and weight-maintenance program in 1975 have been patients of his South Florida medical practice, Siegal Medical Group. This is the first time that Dr. Siegal's Cookie Diet™ will be offered in all fifty states, or for over-the-counter retail purchase.
Dr. Siegal's decision to make his Dr. Siegal's Cookie Diet™ widely available was driven by two factors. One is that the number of calls he receives each week from overweight sufferers around the country and beyond has been increasing steadily. Unfortunately, most people who contact him live too far away to be treated in his South Florida-based practice.
"I receive several calls a week from overweight people who want the real Dr. Siegal's Cookie Diet™ but are too far away to visit my medical practice in Miami-Dade County," said Dr. Siegal. "It's frustrating because, as a doctor, you're trained to help people. So, after thirty years, I've decided to make Dr. Siegal's Cookie Diet™ available throughout the country from drug stores and health care professionals."
Another reason that he decided to make Dr. Siegal's Cookie Diet™ obtainable everywhere is the growing number of cookie diet imitators. Some of these companies have gone so far as to refer to the profiles of Dr. Siegal's Cookie Diet™ in various national TV, newspaper and magazine stories as if they were profiles of their own products.
"Let's face it--Dr. Siegal's Cookie Diet™ is going to be my legacy," added Dr. Siegal. "While I'm proud of whatever contributions my books have made to the debates on high fiber diets, hypothyroidism, hunger suppression and calorie-restricted diets, it's Dr. Siegal's Cookie Diet™ that will continue to provide the greatest benefit to overweight people. I'm making it available everywhere in order to protect its thirty-year reputation and to ensure that people who think they're getting Dr. Siegal's Cookie Diet™ are getting the real thing and not some knock-off."
Dr. Siegal created his first food--an oatmeal raisin cookie--in 1975 as a way to help his patients control their hunger so that they could lose weight on a low-calorie diet. Soon to follow were other cookie flavors, shakes and soup with the same hunger-controlling properties. The products, which contain no drugs and will be available without a prescription, include Dr. Siegal's proprietary blend of food proteins which provide unusual hunger-suppression for the number of calories they deliver.
Dr. Siegal is the author of several books. His latest book, Dr. Siegal's Cookie Diet™: How One Doctor and His Cookie Helped 500,000 People Lose Weight, will arrive at bookstores in March. Other books by Sanford Siegal, D.O., M.D., include:
Dr. Siegal's Natural Fiber Permanent Weight-Loss Diet (Dial Press, 1975)
Dr. Siegal's Natural Fiber Cookbook (Dial Press, 1976)
Dieta del doctor Siegal: basada en fibras naturales para una perdida depeso per manente (Editorial Diana, Mexico, 1980)
Hunger Control Without Drugs: The Doctor's Appestatic Diet (Macmillan, 1985)
Is Your Thyroid Making You Fat? (Warner Books, 2000)
Dr. Siegal's, Dr. Siegal's® Cookie Diet™ and Cookie Doctor™ are trademarks, of SM Licensing Corp.
Media Inquiries:
CookieDietOnline.com
866-464-5595
###