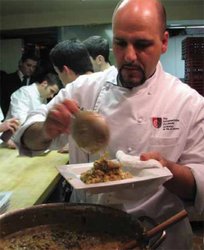 Moonachie, NJ (Vocus) June 10, 2010
Now featuring a total of 17 culinary travel programs throughout Italy, France and Spain, Central Holidays is pleased to unveil their most sought after food, wine and cooking vacation programs for 2010. Whether travelers wish to experience some of the new additions, including Flavors of Spain, Charming Villages of France and France's Fine Wines & Cuisine, or culinary vacation favorites by Central Holidays, such as Spain's Gourmet Kitchen's or Cooking Classes in Umbria – travelers can be assured that they will embark upon an unforgettable food, wine and food & wine vacations extravaganza.
Central Holidays is pleased to continue to offer the very best in cooking vacation programs in 2010 - which boast hands-on cooking lessons with renowned Chefs, gourmet meals including wine, fascinating sightseeing and wine-tasting tours, luxurious hotel accommodations and much more - all at a great value.
"Whether you consider yourself a gourmet, a foodie, a wine connoisseur -- or simply just want to savor delicious local flavors of as you travel, we have created a collection of trips that will tantalize your tastebuds and take you to delve into the heart of each destination as you savor each region's unique food and wine," said Fred Berardo.
Following are a small selection of Central Holidays' 2010 Culinary & Gastronomy vacation programs, which enable travelers to experience the flavors and cultures of these inspired vacation destinations:
TUSCANY COOKING EXPERIENCE from $871 (4-night stay in Pistoia, at Villa Cappugi) - Treat yourself to a culinary celebration that artfully showcases the sumptuous flavors and cultural attractions of Italy's Tuscany region featuring wine tastings, a shopping tour of Florence and a four-night villa stay just outside the historic town of Pistoia where you will enhance your culinary skills with a hands-on cooking class followed by a delectable three-course meal.
SPAIN'S GOURMET KITCHENS from $5,233 (3-nights in Madrid, 3-nights in Barcelona) - Indulge in the Spain's Gourmet Kitchen's, a program offered exclusively by Central Holidays that features cooking lessons at the homes of some of the most celebrated local chefs in Seville and Barcelona. This culinary vacation also includes a tapas tasting tour in Seville and Cava Wine tour in the Penedèas wine region well as lots of included sightseeing in each fascinating city visited.
COOKING CLASSES IN FRANCE from $1,912 (3-nights in Paris, 3-nights in Avignon, 2-nights in Nice) – From Paris to Avignon and the French Riviera's Nice this program presents exquisite opportunities to indulge in gastronomic delights and learn to create some of your own culinary masterpieces. Featuring an included full-day cooking class in France's Avignon, plus special wine tasting excursions and a Seine River Cruise, your time in France will be a feast for all senses. Additional cooking classes can be added to this itinerary with options available at the Ritz in Paris as well as in St. Remy de Provence and Venasque.
SORRENTO COOKING PROGRAM from $649 (4-nights in Sorrento, at Esperidi Resort) - Visit the coastal village of Sorrento to enjoy the flavors of Italy's South. Take part in two expert-led cooking classes where you will learn the secrets of Italian cuisine hands-on then savor your culinary creations together as a group over lunch paired with regional wines. With a four-night stay included, you can experience Sorrento and the surrounding villages of Italy's breathtaking Amalfi Coast.
For additional information and for the complete list of culinary travel programs available through Central Holidays –please call Central Holidays at 800-935-5000 or visit them online at centralholidays.com.
About Central Holidays:
Spain Vacation Packages, Greece cruises, Mediterranean Cruises and Italy Packages: founded in 1972, Central Holidays offers superior travel programs, value and service to enchanting destinations throughout Italy, Spain, Portugal, France, Greece and Turkey, plus dozens of Mediterranean and European River Cruise itineraries and worldwide Ski programs! For more information, contact Central Holidays at 1-800-935-5000 or visit their website at centralholidays.com.
Media Contact:
Marlene Oliver
NJC Communications
(305) 491-0512
Cassie Dittrich
NJC Communications
(802) 522-0714
Technical Contact:
Anthony Berardo
Berardo Marketing Group, LLC
(201) 970-7698
bmg-website.com
###