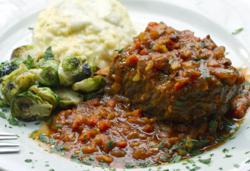 I create my menus for my events to teach my guests these basics to empower them with knowledge and get them back to the kitchen and cooking again.
Milwaukee, Wi (PRWEB) August 31, 2012
CMFs School of Culinary Magic is a state-of-the-art Culinary Studio/Chef's Counter where Milwaukee's celebrity chef Michael Feker hosts individual or couples cooking lessons; private luncheon or dinner cooking demonstration events; corporate, team-building events; as well as open-enrollment events, which are open to the public and consist of Gourmet Food Flight and Wine Tastings or Beer Tastings and hands-on Learning Luncheons. Exclusive newly offered events for the fall season include Gourmet Food Flights and Wine Tastings on Thursday evenings on October 11, November 8 and December 6; Hands-on Culinary Luncheons Saturday afternoons on October 20, November 17 and December 15; and Gourmet Food Flights and Beer Tasting Thursday evenings on October 25, November 15 and December 20.
Feker's goal for every event is to transform his guests from recipe followers into recipe creators, by teaching them the fundamentals of cooking and emphasizing the importance of pure, unprocessed and unaltered ingredients to create a truly healthy cooking and dining experience.
"I am delighted to share with you my love and passion for the fascinating world of the culinary arts. I work as an ambassador to those who wish to explore this world with me in my restaurant, IL MITO Enoteca, and Culinary Studio, Chef Michael Feker's School of Culinary Magic! My mission is to inspire those who I have the privilege of cooking for to slow down, take a seat, and by all means, appreciate what's in front of you. I believe that enjoying a good meal doesn't have to be a complex, mind-numbing series of steps and approximations. It doesn't have to take hours and fortunes to deliver a meal you can be proud of and feel good about eating, as much as a simple understanding of the basics," Feker enthusiastically explains.
When dining with chef Feker for a cooking demonstration, guests are seated at a large, elevated granite island where Feker has a top-of-the-line culinary station built in opposite their seating. Feker walks his guests through the cooking process for each course as he prepares and presents their meal before their eyes. While engaging and entertaining his guest with unique food facts and culinary tips, Feker strives to stay true to his passion for using seasonal, local ingredients. From ingredients like rhubarb and pumpkin to seasonal culinary techniques such as slow braising and infusing flavors with a stew, Feker's October events highlight the turn of the seasons with the arrival of fall.
"Come November and December we are all planning holiday parties and great culinary festivities," shares Feker. "Through my events in November I want to inspire my guests and help them plan for their events so that when the day comes they are not in the kitchen cooking at dawn, and to allow them to become a guest at their own event. I also want to demonstrate the diverse ways leftovers can be used, because in the kitchen nothing should go to waste. I create my menus for each event to teach my guests these basics, to empower them with knowledge and get them back to the kitchen and cooking again."
Feker highlights these key points through dishes such as a turkey scaloppini in a cranberry chutney; veal scaloppini with Tuscan-style, sage-infused cannellini beans; caramelized pork belly and eggs served atop sticky rice with quick-pickled vegetables; house-smoked wild boar spare ribs with Carolina-style BBQ sauce; pumpkin bisque with candied orange; pumpkin-bourbon pudding with toasted oats; orange-glazed Sicilian doughnut fritters and more.
Tickets for events with chef Michael Feker can be purchased online at shop.ilmito.com or by calling IL MITO restaurant at 414/443-1414.
about il mito catering
Chef Michael Feker and his catering team provide an innovative and unique culinary experience. From food to bar to staging and presentation, guests and hosts/hostesses alike will immerse themselves in harmonious flavors, textures, colors and aromas that create unmatched, ever-lasting memories.
Whether you are planning a grand gala of 500 guests, a small intimate in-home dinner party for 10, weddings, graduations, corporate events, business luncheons and on, there are many details that transform your event into an experience. Selecting the proper venue is one of the first steps in creating an experience. Size, location, accommodations, setting, format, theme, ambiance, accessibility must be considered in the first stages of your planning. Each venue offers unique amenities and character, from lakeside events to grand ballrooms to backyard BBQs, Chef Feker and his team have the experience to bring to life the celebration you envision and allow you to become a guest at your own event.
about il mito restaurant
IL MITO Trattoria e Enoteca is an award-winning Italian/Mediterranean restaurant and wine bar located in the heart of Milwaukee in the village of Wauwatosa. The restaurant opened in 2006 and has become one of the region's most popular Italian eateries. The restaurant's executive chef and culinary creator, Michael Feker, established IL MITO as a destination for simple yet robust Italian that's affordable. The menu features everything from homemade pastas and salads to signature soups, breads, cheeses and pizza, including homemade, gluten-free options. Lunch is served Tues-Sat from 11am-2pm; Brunch served Sun from 10am-2pm; dinner services begins at 5 pm Tues-Sun.